In today's world, Graphic Designers are constantly seeking new tools to produce visually fantastic material. Lately, many people have been using Adobe Spark to make the best images for social media. But the market is ever-evolving and there are numerous tools available. This has put common users like you in an unending dilemma. To assist you in choosing the tool that is most effective for you, we have come up with this comparative analysis of Adobe Spark and our newly-added tool called Airbrush. Let's take a deep look into both.
Adobe Spark
Various firms use Adobe Spark, a design program, to produce pre-made social media messages and videos. Its user-friendliness is what makes it unique. The capabilities of Adobe Spark are more geared toward small businesses, bloggers, and marketers with little to no design skills and require a ready-made, highly shareable content. The app makes it very easy to create presentations, movies, and social media updates.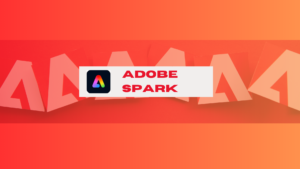 Airbrush
Airbrush is your only option to create photographs of the highest caliber. A wide range of photos from Airbrush is available for various projects, including presentations, websites, and commercials. To help you select the ideal image for your project, Airbrush offers a range of price alternatives. Additionally, you can bookmark your favorite photographs for quick and straightforward access while searching for the ideal image using keywords or tags.With Airbrush's AI technology, you may quickly generate original stock pictures, NFTs, artwork, and more.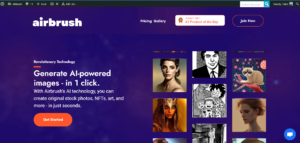 Features of Adobe Spark
Some of its specialist creations are social media posts, slideshows, and films created using Adobe Spark. For these kinds of designs, Adobe Spark includes approximately 46,000 templates.You are given various design templates to choose from and build upon after deciding your design type and template size. You can also begin with a clean slate. Small firms are advised to use Adobe Spark's collection of templates to speed up content creation.
The toolkit for Adobe Spark is designed especially for simple and quick content development.There are a good variety of tool kinds available in Adobe Spark. Each tool is made simple to use and efficient when creating content.
Adobe Spark runs entirely in the cloud. Therefore, you do not need to store your creations on your device. Because of this, if you anticipate managing many projects and files, Adobe Spark is highly recommended for that.
Product screenshots are also supplied in this app to provide context and illustrate the user interface.
Features of Airbrush
The Airbrush App is software that assists you in consistently taking the ideal selfie. It has instruments for removing wrinkles and imperfections, photo editing tools that let you edit your photos like an expert, and new filters to experiment with.
Additionally, Airbrush provides expert editing capabilities that can enhance the overall appearance of your selfie. For instance, you may adjust the hue and light, add vignettes, and even use a tool to create the gray backgrounds that photographers adore.
There are numerous filters available from Airbrush to match any situation or mood. With these unique filters, your picture will have the edge it needs.
With Airbrush, you can create AI-powered photos with only one click.
Adobe Spark Pricing
Pricing for Adobe Spark begins at $9.99 per person per month. It is among the most reasonably priced options available right now. Adobe Spark also offers a free plan.
For $19.99 a month, Adobe Spark also offers a team package. If more admin features are crucial to you, consider this choice.
Keep in mind that Adobe Creative Cloud comes with Adobe Spark. This plan costs $52.99 per user every month and includes Adobe XD and Illustrator.
Airbrush Pricing
If you wish to use the commercial edition of the Airbrush app, you have two choices.
Some features won't be available to you if you refuse to pay, and you may be unable to save your progress.There is a 7-day free trial that should allow you to decide if this program will meet your editing requirements or not.
Uses of Adobe Spark
You can share ideas and tell stories quickly and beautifully using Adobe Spark. You can create three different sorts of content with Spark:
Create a tale with text, pictures, and video using Adobe SparkPage.
Use Adobe Spark Post to generate social media-optimized photos; you supply the content and images, and it will assist with the design. The app will help you design each social media network's ideal image size and shape.
Create a video using Adobe Spark Video. The app will work with you to create an incredible film that you can share with the world by adding footage from your PC or iOS camera roll, overlaying text, adding your voice, and adding background music.
Uses of Airbrush
Think back to the hours you spent locating the ideal photograph for your blog or presentation. You searched through several pictures but were unsuccessful in finding them, so you were forced to use a less-than-ideal but functional image.Imagine if artificial intelligence (AI) could instantly transform your ideas into works of art. Airbrush accomplishes this.
Type a few words briefly describing the picture in your head, then click "Generate." After that, relax while AI brings life into your dreams within seconds.When you have finished writing your blog post, drop the finished content into Airbrush, and the program will quickly produce a cover image.
Airbrush can turn text into art as well as the opposite. Send the image to Airbrush, and our AI will describe the image in depth if you need help putting words into an image.Additionally, Airbrush may upscale photos while maintaining (and frequently enhancing) the amount of detail.Therefore, Airbrush is for you whether you're a team leader seeking to get the best out of everyone, a graphic designer looking to push the envelope of creativity, a blogger or writer looking for that copyright-free stock photo, or someone looking to make money selling NFTs.
Pros and Cons of Adobe Spark
Pros:
It is unpaid.
Available as a web-based app, an iOS app, and an Android app.
User-friendly interface.
A how-to video guides people through the procedure and offers recommendations.
Availability of templates, if required or desired. If needed/wanted, a blank or custom option is there.
Free of Royalty music.
Graphics, icons, and pictures are under Creative Commons licenses.
Various layout possibilities and styles.
Download or link to Spark creations.
All projects are saved in the cloud and accessible from anywhere with an account.
Cons:
Although free, creations still bear the "Adobe Spark" watermark.
In other browsers, Spark may function differently. Slides can be moved, for instance, in Firefox but only sometimes in Chrome.
You must create an account first.
According to some users, it has limited possibilities when inserting icons and text.
When using the voice-over feature, a quiet area is recommended.
Pros and Cons of Airbrush
Pros:
The choice between Stable Diffusion and Dall-E 2 (albeit Dall-E costs 10 credits per image).
A choice to produce 1024×1024 photos.
Relatively quick app.
Reactive assistance.
Results on par with competing products.
Public image function (Library of what others have created) for ideas. It's still being determined whether the photographs you made will appear there.
Cons:
No options for organizing. However, there is no way to search for or arrange all of the created photographs.
A more comprehensive range of image sizes is needed (only 256, 512 & 1024 are available).
Helpful image suggestions and prompts are not there.
An option for related photographs needs to be added.
Adobe Spark Vs. Airbrush: So, Which One is Better?
The Airbrush user interface is more straightforward than Adobe Spark, which I found appealing. It makes locating what you're searching for simple.The tool is excellent; it provides 7 options for AI generation, multiple sizing options, a gallery and history of the images it has created, a vision more upscale, and a general account dashboard.
Overall, for the price, offered limits, and range of engines –Airbrush is super-efficient than Adobe Spark–and it has developed into a rockstar tool that eventually produces incredible photos that I can use for blogs and articles regular
ly.
Adobe Spark is a creative tool with few features for marketers, bloggers, and other small business owners needing ready-made, highly shareable content. With Adobe Spark, making presentations, movies, and social networking posts is incredibly simple. Due to its constrained feature set, it ultimately falls short of Airbrush's free plans.
Conclusion: Whatever app you choose will allow you to achieve your goal, regardless of your need. But, with Airbrush, you might save some time and headaches.