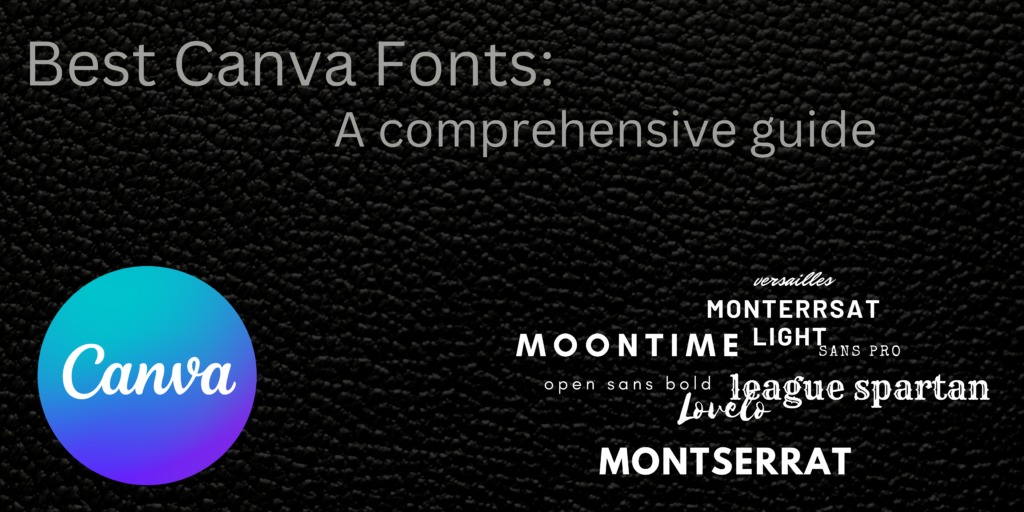 Tired of finding the right canva font for your brand font?
But do you think picking a font that supports your brand and engages your neighbourhood is challenging? particularly if you don't want to spend a lot of money on expensive fonts.
Then you should use this extensive font guide! The greatest free and premium fonts for your identity may be found by sifting through the extensive font collection of Canva, our go-to free graphic design tool.
Even if you are not a designer, this article will show you exactly how to choose the correct typefaces for your brand.
This article demonstrates the best free Canva fonts and how to combine them for a strong brand identity, regardless of your brand's elegance or boldness, modernity or retro, luxury or minimalism.
Canva Fonts
While using canva you have got many options of font combination from the drop-down menu Alternatively, if the font you want is not among the defaults, you can search for it by name. The fonts in canva that you can use on your computer are those that are displayed in the font drop-down menu. You can upload a typeface to your account if you want to use one that isn't among the defaults.
Before we dive into the best font search let's know what is canva pro and how you can use it as a free trial.
Canva Pro
You have full access to all Pro features for a month with Canva's free trial. Many fonts that you haven't seen anywhere else are only available with the Canva Pro plan, as you'll see in the article. Canva often only provides 30 days of free use.
How to use Canva Fonts?
Canva fonts can be used in your design a few different ways.
Choose a font from the font drop-down option and type text on a white canvas.
Change the typefaces in the text boxes and select a ready-made design template.
Use text components from a library on Canva.
Enter text and pick a font to create your own text element.
Place fonts over one of your images or designs.
Playing around and experimenting with the many possibilities is the best approach to learning how to utilise fonts in Canva.
How to find Canva designs and fonts?
Where do you even begin when selecting typefaces in Canva?
Do you go on a scrolling spree in search of the ideal font or do you utilise the Canva-advised fonts since they are purported to be *the best*?
Actually, Canva has some of the most widely used fonts available on their platform, but you might need some help finding them. Here is a list of the best free Canva fonts that go together that you should download to your account.
It can take a long time and require a lot of repetition to search through Canva to save all of these fonts.
1. Shrikhand + Tenor Sans canva font
A stylish, decorative serif font that looks great as a header is Shrikhand. Simply said, it's a powerful font with a contemporary twist that exudes strength and assurance. It's one of Canva's most exquisite fonts.
Tenor Sans serif font, on the other hand, is a very streamlined display font that was created specifically for body text. In addition, it looks excellent regardless of how small it is.
2. Lemonada Semi Bold + Open Sans Bold
This is one of the best Canva font combinations for social media postings or presentations. This cheerful mood is added to the design by using the Lemonada Semi Bold typeface as a header.
Another example of a traditional, attractive sans-serif typeface is Open Sans Bold, which pairs well as body text with the Lemonada Semi Bold header.
3. Lovelo + Montserrat
This is yet another aesthetic Canva font pairing, but it features more of the same kind of pairings. Similar to Lovelo, Montserrat is a geometric sans-serif typeface with clean lines.
Additionally, Montserrat is the best replacement for Proxima and Nova Gotham if you can only use Canva's free fonts.
4. Anton + Nexa Script + Aileron Regular canva font
The use of two typefaces together isn't a requirement; you can also use three fonts in a single piece of writing. However, you should be aware that three fonts is the maximum.
So this combination is a wonderful illustration of three fonts working well together. These typefaces are Aileron Regular for the main body text, a subheader in Nexa Script, and Anton for the header. The three fonts' contrast provides an aesthetically pleasing harmony.
5. Julius Sans One + Archivo Narrow + Source Sans Pro. Canva font
The elegant, straightforward, and slim letters of Julius Sans One blend well with Archivo Narrow's more severe appearance. They are therefore excellent candidates for business writing or resumes. Add Source Sans Pro on top, and you'll have a piece that is simple to read.
6. DM Serif Display Canva font
A contemporary and fashionable typeface that works well for many different designs is DM Serif Display. This font is ideal for giving your designs a little additional flair!
7. Vidaloka Canva font
Vidaloka is the perfect font if you're seeking something wholly original! This font is ideal for designs with a modern or retro feel because of its quirky and humorous appearance. Serif fonts include Vidaloka.
8. The Seasons Canva font
The Seasons is a great font option for projects that have a seasonal or natural theme. This typeface has a very earthy, rustic vibe, which is fantastic for giving your work a little more personality. Serif fonts include The Seasons.
9. Cardo Canva font
Cardo is a great font option for designs that have a traditional or vintage feel. This typeface has a very classy and classic style that can be ideal for projects that call for a more polished appearance. The font Cardo is a serif.
10. Lora
For designs that call for a feminine or romantic tone, Lora is a great font option. This typeface has a very delicate and feminine appearance, making it ideal for tasks like creating birthday cards or wedding invites. The typeface Lora is a serif.
The Checklist: What are your needs from Canva templates?
What three values do you associate with your brand?
How do you want others to perceive your brand?
How would you describe your ideal customer? What do they stand for?
How does your brand's mission manifest itself to the public?
These font combinations are ideal for:
font combinations for Pinterest pins.
design such as party invitations
ideal for wedding invitations
Airbrush.AI – The Best Alternative
Fonts are something which adds shine to your writings. You may quickly generate original stock pictures, NFTs, artwork, and more with Airbrush's AI technology. You need look no further than Airbrush if you're looking for high-quality fonts and graphics. A wide range of photographs from Airbrush are available for use in a variety of projects, including presentations, websites, and commercials. You can choose from a number of pricing options at Airbrush to discover the ideal image for your project.
Free plan
$ 0.00/month
Credits for 20 images
Image enlargement
Blog Post Cover
Text-to-image converter
Photo History
Premium Plan
500 Image Credits for $9.00/month
Image enlargement
Blog Post Cover
Text-to-image converter
Photo History
Visitors' Gallery
So what are you waiting for? sign up here today and enjoy unlimited fonts, image generation, wallpaper making and many more trendy features.