In today's world, businesses are constantly looking for new and innovative ways to stay ahead of the competition. One such way is through the use of artificial intelligence (AI). One of the most exciting and promising AI platforms available today is Craiyon AI. With its advanced features and cutting-edge technology, it is revolutionizing the way businesses operate. In this article, we'll take a comprehensive look at Craiyon AI, including its features and operations.
What is Craiyon?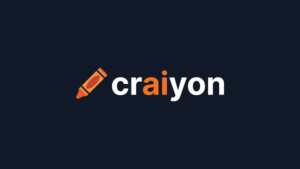 Using artificial intelligence and machine learning, the picture generation engine Craiyon creates images from plain-language text through a user interface. The AI was taught to connect words with shapes as well as colour schemes, line thicknesses, variations in perspective, and other aspects of artistic style by being fed a database of images and written descriptions. Because of how well the AI learned, it is able to closely mimic the aesthetic of well-known artists.
It is basically a picture generation tool.
It generates pictures for you using clever machine learning and artificial intelligence. The technology that makes this possible makes use of a sizable database of hidden pictures that it "learns" from in order to accomplish this. You don't need to be inventive to use this AI; it's very simple.
Simply enter your desired item in the search window at craiyon.com.
Features and Uses of Craiyon AI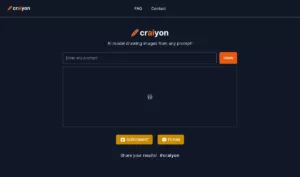 Using Craiyon couldn't be any simpler. Simply click inside the text area at the top of www.craiyon.com. Add any phrases that best convey the picture you want to see.
You can specify the topic, context, vantage point, and artistic style in which the image should be created. You can achieve just about any style you can imagine, from pointillism to impressionism in paintings and line drawings. Your topic can be portrayed as a stained glass window or as a cartoon from the future. You can commission a painting in the manner of your favourite artist.
Additional features are available on other DALL-E-derivative websites, such as scaling the picture or creating variations of a single result. These add-ons are not provided by this AI image generator. You only have the square picture size and shape that is displayed to you in the results box. But because it is free and limitless, you can edit your concept as many times as you like, using different descriptors to zero in on the desired appearance.
It's crucial to keep in mind that this image generator is still a work in progress and will probably improve over time, becoming more accurate, informed, and sporting better, more recognisable faces. It is already the simplest to use of all the DALL-E knockoffs. It might become the finest AI art generator online with more improvement.
Pricing
Craiyon AI offers free packages with unlimited images.
If you want to upgrade to the supporter level, the package will cost $5 per month. This package will include unlimited pictures with minimal wait time, high priority, no ads, no watermarks and image confidentiality.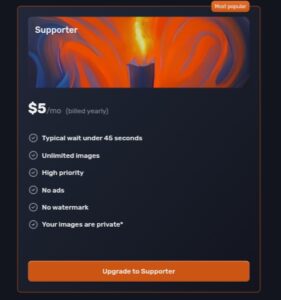 The $20 package will allow you to upgrade to the professional level. This will also include unlimited pictures with highest priority, wait time less than 30 seconds, image confidentiality and an additional feature which will give you early access to its new elements.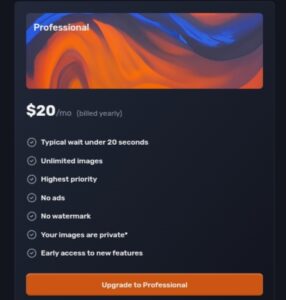 Pros and Cons of Craiyon
·       Use is free
·       Rapid picture creation
·       Simple user interface
·       Decent results
·     Not the most effective AI image maker
·       Ads all over the place
·       No saving of profiles or images
·       No style presets or templates
What advantages does Airbrush AI offer?
You need look no further than Airbrush if you want pictures of the highest calibre. A broad range of images from Airbrush are available for use in a variety of projects, including presentations, websites, and advertisements. You can choose from a number of pricing choices at Airbrush to find the ideal image for your project. Additionally, you can save your favourite images for fast and simple access while searching for the ideal image using keywords or tags. By making your own stock photos, you can save time and money. Get results from your home or workplace computer, that appear professional. Get the professional-level photos you require without having to conduct a photo session. The user-friendly interface of Airbrush makes it simple to create images, drawings, and artwork.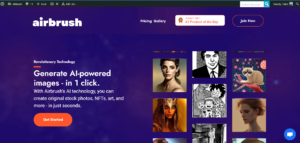 An effective tool for creating and sharing visual material is airbrush. It's intended to make it simple to produce and distribute professional-caliber graphics online without any prior design knowledge. It is straightforward to use and does not require any complexity to complete simple tasks. With just a few mouse clicks, Airbrush enables you to quickly create stunning images, animations, and social media templates that you can share on social media with friends, coworkers, or even sell! The use of an airbrush has many advantages. There are numerous additional aspects of the airbrush that you can purchase or use for a much smaller fee—almost nothing at all.
Conclusion
Even though Craiyon AI is completely free to use, it lacks when it comes to extra features and smooth application. Airbrush AI has a lot more features to offer, and you can get a headstart for free with minimal charges on future uses.
We hope this article was helpful for you to decide which AI suits you better. Thanks for reading!