If you're a visionary creative searching for an exceptional online platform to showcase and sell your masterpieces, look no further than Creative Market. This extraordinary marketplace has transformed how designers, artists, and entrepreneurs purchase and sell digital assets. Offering unparalleled ease in finding the perfect tools for any project. In this awe-inspiring article, i.e., Creative Market Review, we will dive deep into what makes Creative Market an unparalleled creative haven and how you can harness it to boost your creative enterprise. 
We will also explore the benefits of this unique platform and arm you with invaluable tips and tricks to ensure an exceptional experience. So, if you're a visionary designer, imaginative artist, or ambitious entrepreneur yearning to amplify your creative potential, buckle up to unleash the world of creativity!
What is the Creative Market?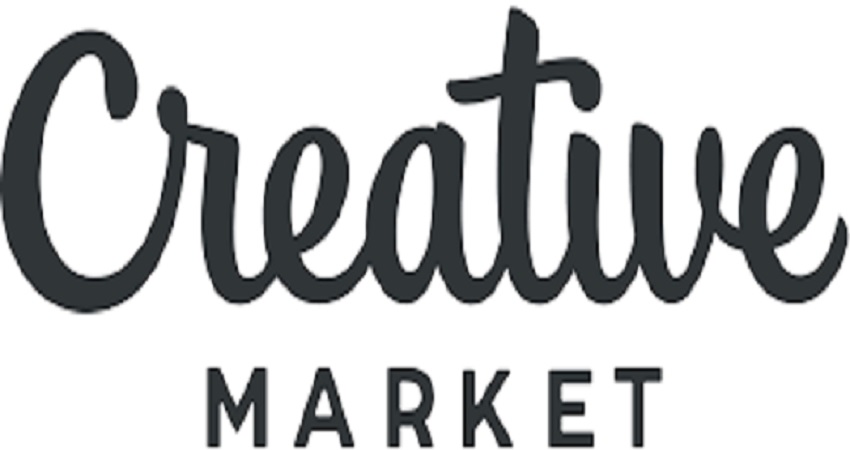 Creative Market is an exceptional online marketplace that has redefined how creative professionals, including designers, artists, and entrepreneurs, buy and sell digital assets, including a vast collection of photos. This platform is the ultimate hub for anyone looking for high-quality, striking images for their creative projects. The abundance and variety of prints available on Creative Market make it an unparalleled resource for modern photographers. From breathtaking portraits to awe-inspiring landscapes, this platform caters to everyone who loves photography. Its unyielding commitment to quality sets Creative Market apart from other photo generation platforms. Each photo undergoes a rigorous selection process by a team of experts, ensuring that only the best images are available for purchase. This meticulous approach guarantees that every idea on the platform is of the highest standard, providing an exceptional experience for users.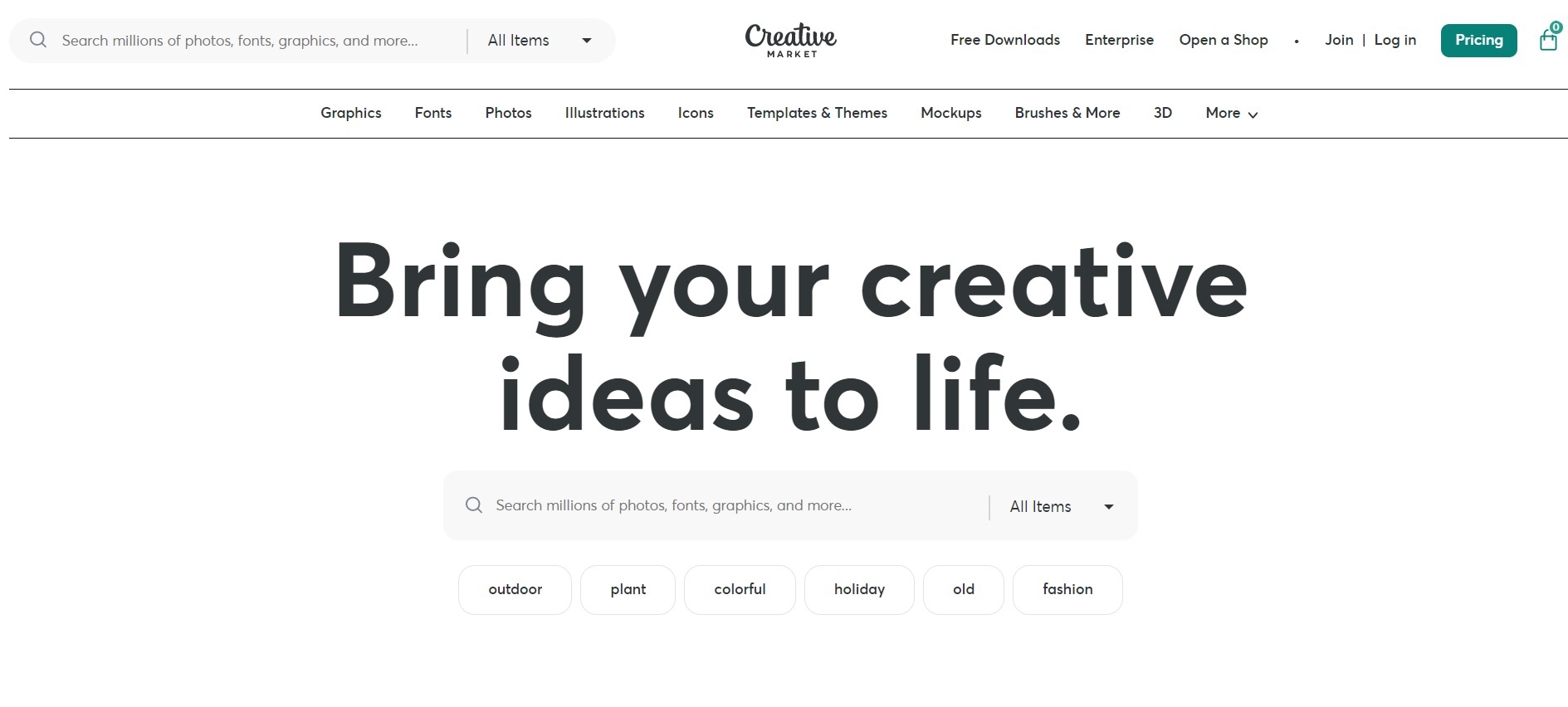 No matter your experience in the creative industry, Creative Market provides an extensive selection of products and services to enhance your creative potential. With customizable templates & themes, stock photos, fonts, illustrations, and graphic design assets, this platform caters to everyone's creative needs. It offers diverse resources for anyone looking to elevate their projects. Its user-friendly interface and extensive features make it the perfect platform to showcase and sell your images to a global audience. And providing unprecedented exposure and opportunities. Creative Market is an excellent photo generation platform that offers photographers an extraordinary chance to showcase their work and provide access to high-quality images for anyone looking to elevate their creative projects. With its authenticity, commitment to quality and unparalleled resources.  It's no surprise that Creative Market has become the go-to website for modern photographers, creators and shop owners.
Features of Creative Market
Creative Market is an outstanding online marketplace that stands out from its competitors by offering many features that help creative professionals, including designers, artists, and entrepreneurs, display and sell their work to a global audience. Here are some of the platform's most fascinating features that make it unique:
     

Handpicked Selection of High-Quality Assets:

One of the most prominent features of Creative Market is its dedication to quality. The platform's team of experts evaluates every asset, including photos, illustrations, fonts, and templates, to ensure that only the best and highest quality assets are available for purchase. Thus, providing users with an exceptional experience. For example, if you're searching for a stock photo on Creative Market, you can be confident that it has been handpicked for its high quality and suitability for creative projects.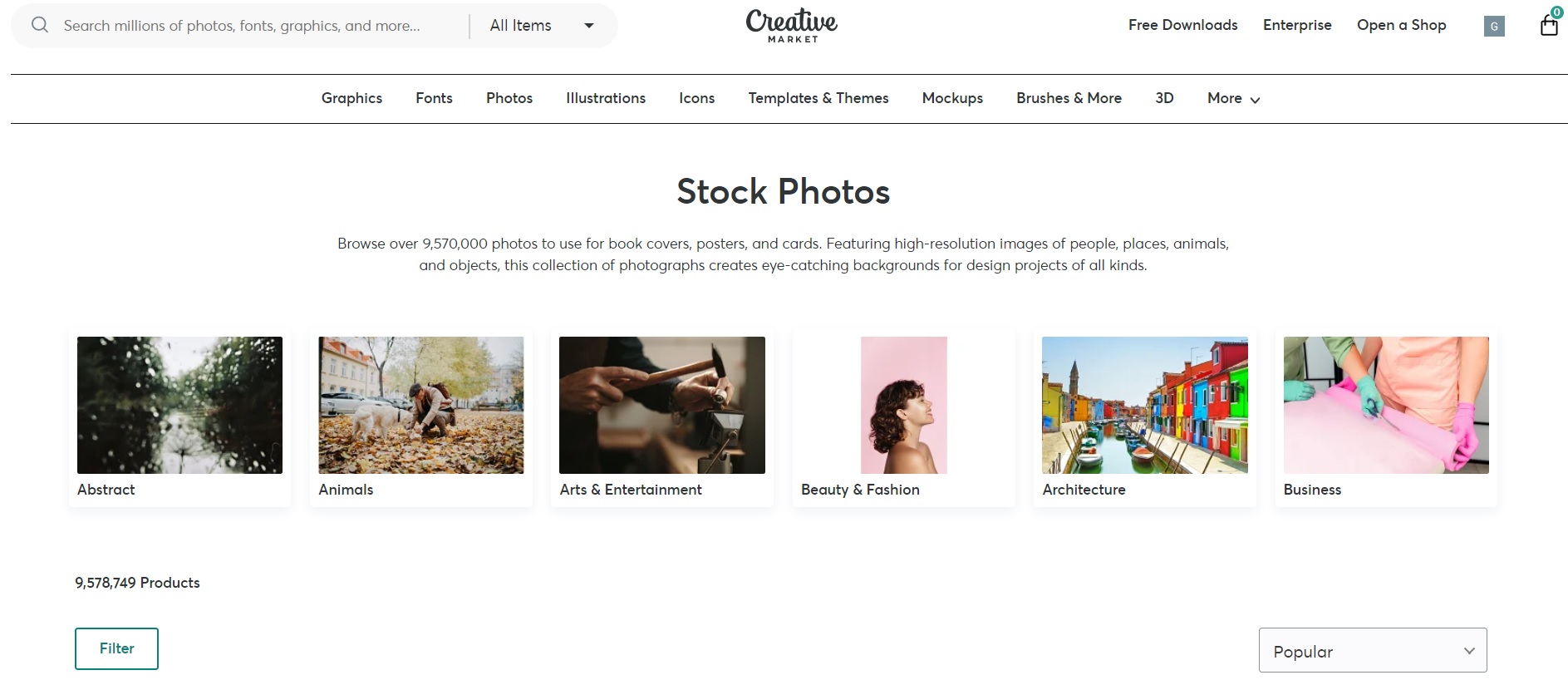 Wide Range of Products:

Creative Market caters to the diverse needs of creative professionals by offering an extensive range of products and services. This platform has something for everyone, from customizable templates and stock photos to fonts, illustrations, and design assets. For instance, a graphic designer can find a template for a social media post, a photographer can purchase a high-quality stock photo. And an entrepreneur can buy a unique logo design.

     

Easy-to-Use Interface:

Creative Market's user-friendly interface makes it easy for anyone to navigate the platform and find what they need quickly and efficiently. The platform is designed to help users discover and purchase assets with ease. For instance, users can search for specific assets using keywords or filters to refine their search results.

     

Author Profiles:

Creative Market also allows authors to create their profiles, making it easier for users to find and follow their work for future releases. This feature helps to build a community of creatives on the platform, where authors can connect with their audience and receive feedback on their work.

     

Product Bundles:

Another unique feature of Creative Market is its product bundles. The platform's team or authors curates these collections of assets, such as fonts, graphics, and templates. Bundles often offer significant discounts, making it an excellent way for users to save money while purchasing multiple assets. Members or customers are allowed to download free items or files every week.
Let's move on to its pricing and find out how much you need to pay to avail of the services.
Pricing of Creative Market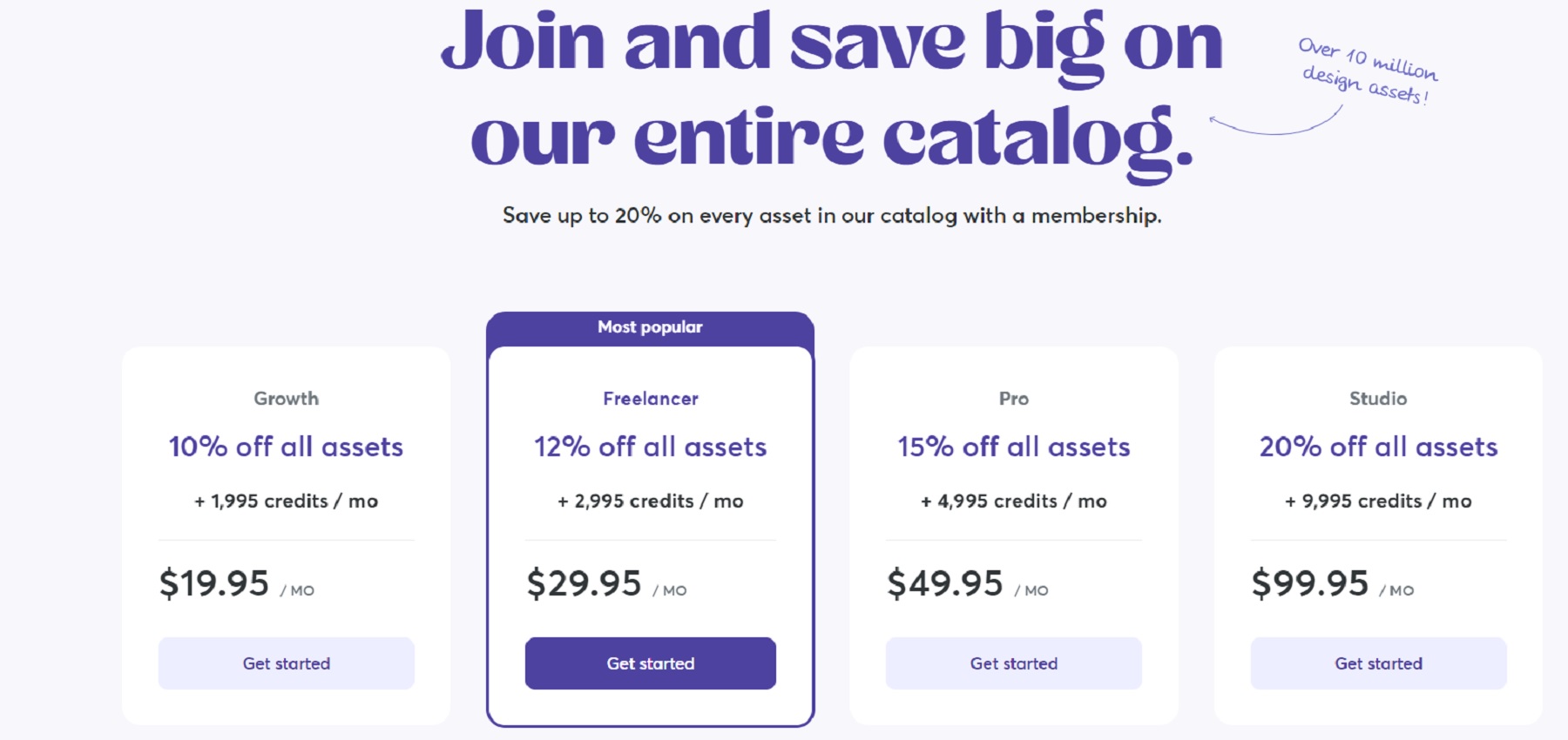 Creative Market has four pricing plans to which buyers can subscribe depending on their needs. Here it goes:
Growth:

This Plan comes with 10% Off on all assets. You will get 1,995 credits, which you can use for downloading the premium stuff at $19.95/month. And credits don't expire for active members.

Freelancer:

Freelancer Plan offers 12% Off on all assets with 2,995 credits per month for $29.95/ month. It is one of the most popular plans of all.

Pro:

It offers 15% off on all assets and 4,995 credits for $49.95/ month.

Studio:

Last Plan is Studio Plan. It offers 20% Off on all assets, and it provides 9,995 credits per month at $99.95/ month.
Out of all, you can pick the one which suits you best!
Customers Review 
Based on past reviews on sites like Trustpilot and Sitejabber, Creative Market is a popular online marketplace with a vast selection of high-quality assets. And many users have voiced dissatisfaction. Some customers have complained about the platform's search function, while others have had issues with refunds and customer service. Furthermore, the commission charged by the shop owners or sellers has been deemed excessively high. Which has been a demotivating factor for many users. Nevertheless, there are still plenty of positive reviews from satisfied clients who appreciate the platform's affordability and ease of use and ability to spark creativity. And inspire their projects.
How can Airbrush AI be helpful in your content creation journey?
Prepare to be amazed! Airbrush is an awe-inspiring software that harnesses the power of cutting-edge AI technology to produce stunning images based on your text or prompt. It stands out as one of the most exceptional programs for AI image creation, pushing the boundaries of what's possible in digital art. Upon entering the Airbrush interface.  You'll immediately recognize its unparalleled ease of use and intuitive design, allowing you to create with exceptional speed and simplicity. With this tool, you can generate anything you want – nothing is impossible!
AI tools like this can unleash your creativity and earn some extra cash. For example, you could sell your digital images on marketplaces such as Adobe Stock, which accepts AI-generated images. You could also sell your pictures as a freelancer on platforms like Upwork or Fiverr or directly. And approach businesses and companies to create images for them. And if you're passionate about art, you could make your gallery and sell your masterpieces.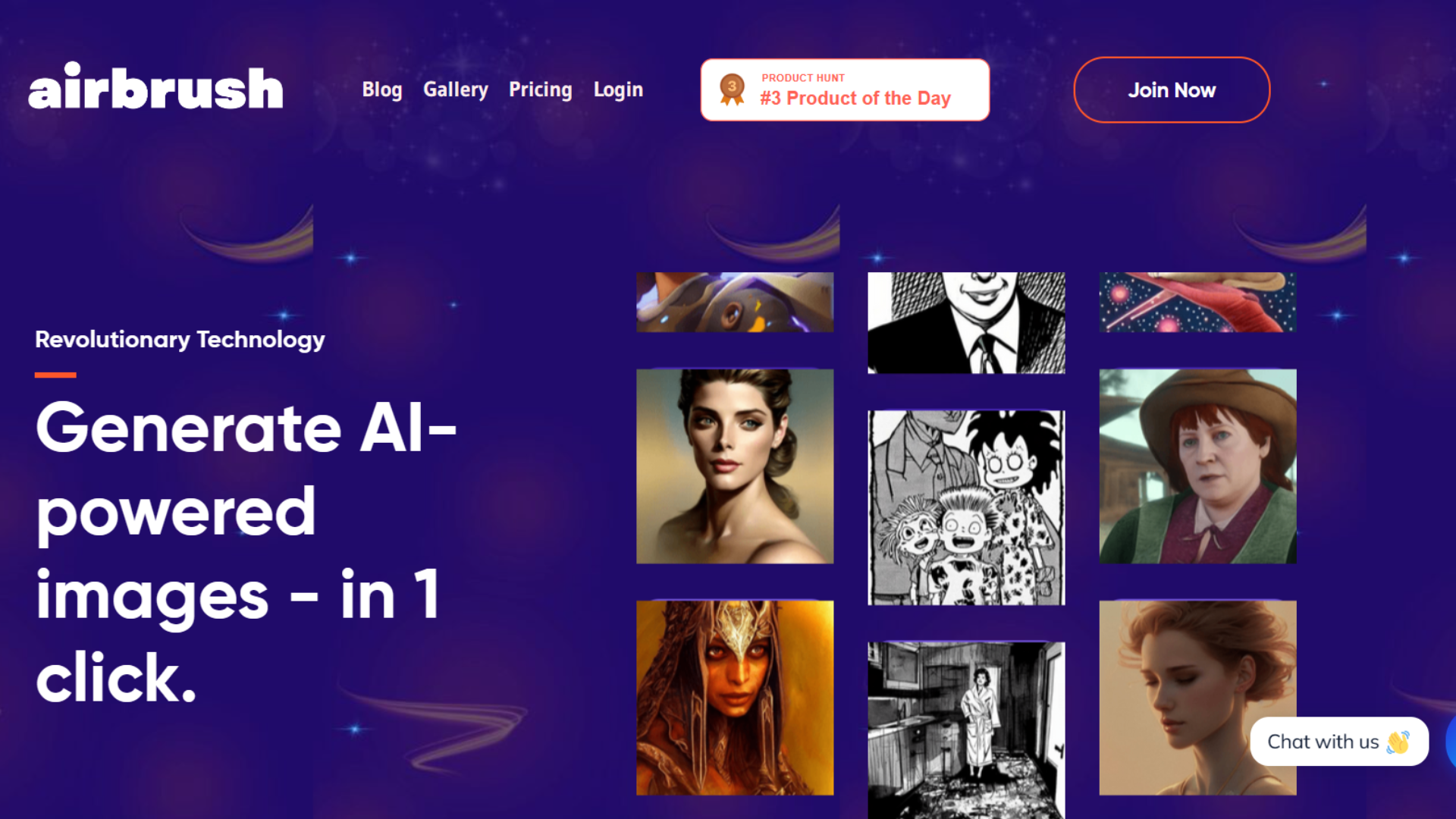 Now let us walk you through how to use Art Smart AI. First, click on the guide if this is your first time using the software. You'll see there are two modes: standard and semi-realistic. We recommend starting with semi-realistic. Then, type in whatever you want, and AI will generate an image based on your prompt. If you want to create a similar appearance to an existing one, you can drag and drop your image into the tool. Image dimension is essential if you want to sell your pictures on marketplaces. You'll need at least 6,000 pixels, but the device offers images of up to 1024 pixels. However, you could continually expand the image to 6000 pixels and try to sell it. Art Smart AI provides advanced options such as scaling, inference prompt strength, in-painting faces and hands, and more.
If you have a low-quality image, you can use the face and hands option to paint it. You can also upscale, resize, crop, add text, zoom, or load images from your computer. Once you've generated your idea, you can download it or create your own presets. The tool also offers camera angles like dip shot focus, close-up, and medium shots. You can try out all these exciting features to benefit yourself. Now you need not worry about images of your own choice. It might be a hurdle in the case of Creative Images. Of course. You can try on your own and find the difference. Finally, if you're curious about Art Smart AI's plans, check out the premium plan, which is far less than Creative Markets.
That's all for now; We hope you enjoyed reading the article. Remember to share your views on the same.
Thanks for your time!