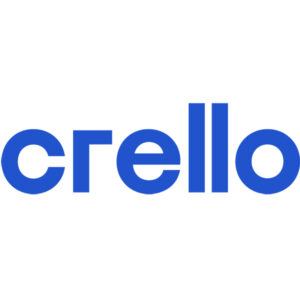 Looking for an online graphic design tool? Have you ever tried Crello? No? Well, we have come up with a holistic review that will help you decide whether Crello is the right choice for you.
Crello is a comprehensive, easy to use app, and available for download from app stores. The most admirable aspect is that working with Crello is optional. Customers can easily use any of the application's 250,000 templates for social networking platforms. The application gives users access to an extensive collection of animated templates, high-quality stock photographs with great visuals, and Depositphotos' video libraries, all of which allow for incredibly detailed customization. You may make polished ad banners and other social media posts using the concise and clear animations offered.
Its enormous collection extends beyond social media; the libraries also have printed materials like posters, pamphlets, business cards, and more. The built-in tools make it simple for customers to choose the templates that best suit their requirements, add the necessary typefaces, and then personalize everything for the ideal product ad. The design is incredibly user-friendly and offers specific training that can assist even a complete novice in producing engaging and high-quality material. Additionally, Crello offers pre-made collections of templates for a range of industries, including social media postings, blogging, events, and advertising. Users can rapidly select a template from the categorized library and create a poster in minutes.
Crello Pricing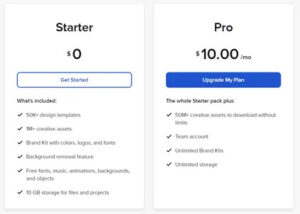 Crello Free Plan: Thanks to recent updates, Crello now offers 10 GB of storage space, 1 million stock photos, videos, and graphics, unlimited monthly downloads, a Background Removal Tool, and a Brand Kit as part of its free plan.
Crello's Pro Plan:It costs $10 per month and gives you access to more than 50 million royalty-free files, team accounts, a backdrop remover, numerous brand kits, premium design templates, films, and an additional collection of premium stock pictures.
To test out all of Crello's premium features and see if it meets your needs, it also provides a 7-day free trial.
Crello Features and Uses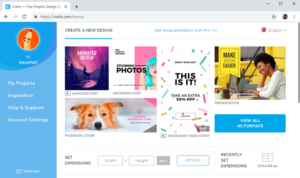 A staggering 30k+ static and animated graphic design templates are available on Crello. For almost 80 image types, you may quickly develop beautiful and compelling graphics. Facebook posts, Instagram stories, blog banners, YouTube channel art, business cards, invitations, TikTok videos, advertising, posters, animated logos, certifications, T-shirt prints, E-book covers, resume templates, and more are examples of these.
When it comes to filing import features, Crello is pretty good. PNG, JPG, and JPEG picture file up to 50 MB can easily be imported. Up to 200 MB of video files in the MP4 and MOV codecs can be loaded.
You will always have inspiration from Crello's extensive collection of over 650k+ quality stock pictures from Light Field Productions. If you're seeking images, you can either browse their library of free stock photos or pay a nominal fee to obtain their Premium images from Depositphotos.
With more than 32k+ full HD films and animations available on Crello, you have countless possibilities to choose from and may make the ideal design. You can move your mouse pointer over a particular movie or animation to see a preview of it. It's pretty user-friendly and has a primary function.
Music is a primary component in making a powerful video. Crello offers 29 genres for choosing your favorite soundtracks, including Calm, Ambient, Disco, Classical, Pop, Sad, Scary, and more. You can also upload your music in MP3 or WAV format.
Thousands of animated objects, including emojis, stickers, frames, banners, shapes, and site elements, can be found under the category "animations." Enter your keyword into the search bar to locate an animated object for your design. The animation will get previewed when you hover over it.
According to the Principles of Graphic Design, every effective design should contain a few key components. Everything from shapes and lines to web elements, icons, frames, charts, arrows, emojis, stickers, doodles, and pictures is available in Crello Objects. With the Crello tool, creating beautiful graphics is so simple that you won't need any other program.
For Backgrounds, Crello provides sophisticated filters and categories.
You can find a large variety of fonts here because Crello makes use of the Google Font Library. Additionally, you may upload your fonts in TTF or OTF files and choose from over 75 pre-designed text templates.
When developing the same designs for several social networking sites, Crello's Resize tool is helpful. In the top right corner, select the Resize button. Choose one of the more than 60 design formats, and it will get completed.
The Present feature is useful when generating films, animated graphics, or presentations with several pages. Your customized image or video can be viewed as a slide show in full-screen mode by selecting the Present icon.
With Crello, you may post your design directly to other social media sites, including Facebook, LinkedIn, Twitter, Tumblr, Reddit, and Pinterest, as well as by a link, Facebook or Facebook Ads Manager, and other social media platforms.Sharing files is quick and easy, thanks to these social network integrations.
Erasing backgrounds from any image is a piece of cake when using Crello's Background Remover tool.
Users of Crello's Pro plan also get access to collaboration features. You can invite up to 10 others to work with you on your designs when you subscribe to a Pro Subscription.
With Crello's new Business Kit function, you can quickly match your designs with your brand's identity. You can add unlimited colors to Crello's color pallet, build a total number of Brand Kits, and more. Add an infinite number of brand logos, then select your preferred font for headers and body text.
The most requested feature has now been made available by Crello after numerous requests. For Crello users, Crello Unlimited functions like an extensive stock asset library. Now, you may download high-resolution media files from the Crello Library to utilize on your projects, including photos, vectors, and films. These assets can get filtered by topic, mood, and categories. The number of downloads has no restrictions. Therefore, if you utilize Crello Pro, you will have unlimited downloads from their library of more than a million assets.
Pros and Cons of Crello
Pros:
There is a fantastic selection of stock images, films, and animations on Crello.
So many distinctive and fascinating pre-designed templates are available to fit every post format.
It offers robust and efficient running mobile apps for iOS and Android.
Crello offers a user-friendly design with practical features, including a search bar for all items, drag-and-drop upload, a hover-to-preview option, and a generally organized appearance.
You can work on your designs with a team of up to 10 people if you subscribe to Pro.
Even though it is less sophisticated than Canva Pro or Pixelied, the available import and export formats are more than sufficient for casual users.
Cons:
The Crello Mobile app's designs still need to be seen or edited on the Crello website, and vice versa. They are attempting to incorporate this feature onto every gadget, though.
The mobile app is capable but lacks a few capabilities like collaboration, folder management, animation effects, adding pages, backgrounds, etc. I hope they soon incorporate them.
How Airbrush AI Is Different From Crello?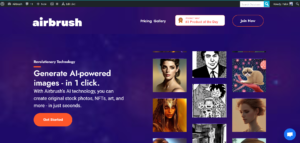 AirbrushAI is the best option for any artist looking for an easier way to create digital art. It allows you to quickly createbeautiful artwork with minimal effort, which is excellent for busy artists who need more time to spend on intricate brushwork orcomplex techniques like masking.
Airbrush AI is distinct from Crello because it can detect artificial video intelligence and manipulated images, making iteasier to catch digitally altered pictures.Airbrush AI takes this a step further by using a heat map to adjust which parts of the image have been looked at ordoctored. It makes it easier for people to edit and design without any mischief. Unlike Crello, Airbrush AI hasfeatures like undoing changes and highlighting models for marketing art applications. With this tool, you can easily mark up yourartwork with precise details and rest assured that you won't have any future editing problems.
Airbrush AI is a fantastic choice for creating YouTube thumbnails, as it has a wide selection of templates and features that areperfect for making YouTube content. Additionally, you can use the tool to retouch your photographs or create thumbnail-makerimages with automatic snapshots. It also has a great set of skill sets that will allow you to make social commentary art ormake people look their best in a studio outside images.
What Advantages Airbrush AI Offers Over Crello?
When it comes to creating stunning visuals, there is no doubt that Airbrush AI offers some advantages over Crello. With Airbrush AI, you can create realistic 3D images and add special effects to your photos that can make them truly stand out.
Airbrush AI offers a wide range of photo editing tools to help you perfect your photos before sharing them with the world. With Crello, you can create beautiful visuals, but the editing tools could be more comprehensive.
With Airbrush AI, you can quickly and easily create professional-looking images with a wide range of features.
Crello is a fantastic tool for creating simple designs, but it needs more power and flexibility than Airbrush AI. With Airbrush AI, you can easily make complex designs and have many options.
So, if you're looking for a tool that can help you create truly stunning visuals, Airbrush AI is worth considering.With its wide range of features and ease of use, you'll be able to create beautiful images in no time.
Conclusion
Airbrush AI and Crello have their features and advantages, but Airbrush AI is better overall.
The first reason is that Airbrush AI is more user-friendly. The interface is more intuitive and easier to navigate, which makes the design process smoother and faster.
Another reason is that Airbrush AI offers more versatile design options. With its wide range of templates and customization options, I can create any design I need.
Lastly, Airbrush AI provides better quality results. The designs look more polished and professional, which is essential for any business.
Overall, I believe that Airbrush AI is the better choice for graphic designers. It is more user-friendly, offers more design options, and produces better-quality results.
Well, that's all for now! I hope this article could provide you with all the needed information to make the right decision.
Thankyou for your time!