The image you want from the best AI image generators with just a text query, like "a flock of birds during sunset,". DALL-E-2 can help you realize your creative vision if you like art but lack confidence in creating it. This article is a definitive guide, and here we will explain to you what DALL-E-2 is and how to generate the images in DALL-E-2 and how to get the images you want. You can create, edit, and generate an image from a million images.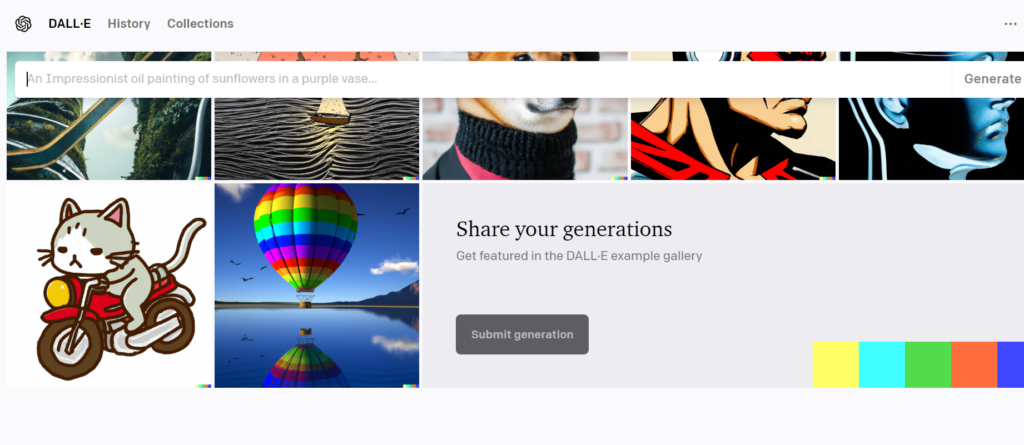 What is DALL-E 2 OpenAI?
The most incredible artificial intelligence picture generator is DALL-E 2, which helps you get 50 free credits and sometimes 15 free credits during the first and second months. You may create and change photos on the web and mobile devices using text prompts, edits, and variations. Until the pictures are downloaded, you will be the acknowledged artist.
This ai art was formally introduced in 2021, and DALL-E 2 went on sale to the general public in September 2022. This article will be the ultimate guide for you to learn how to use DALL-E 2 to create good-quality ai images.

Dalle generates two million photographs daily from its approximately 1.5 million active users. It is well-liked among writers, designers, and other creatives who earn a career by producing and altering images.
DALL-E 2, its second generation, has the potential to revolutionize fields like fashion, hospitality, e-commerce, and photography.
In case you're interested, here is a brief explanation of how DALL-E 2 functions.
OpenAI
The company OpenAI does AI research and development. The goal is to make general artificial intelligence beneficial to all people. This business investigates how to integrate generative models with ethical principles. The API platform from Openai provides our most recent models and guidelines for safe practices.
DALL-E 2 prompts usage for image generation
You can use DALL-E 2 to generate graphics from text descriptions. It's a great AI image generator that can be useful in fields where making mistakes is common.
For instance, a fashion label might create ensembles in various colours and ask models to test out several iterations of those outfits. Fabric and labour resources worth thousands of dollars may be wasted in this procedure.
Before you buy the materials and the labour to build the outfit, DALL-E 2 enables you to use text prompts to preview how it will look, such as a purple shirt with a leather jacket.
You can edit existing images in DALL-E 2
Edit an image that has already been uploaded to DALL-E 2. The same image can be instantly transformed into several other versions.
Unfortunately, when altering photos, prompts cannot be used directly. Instead, DALL-E 2 generates prompts to generate ai images from the original image using internal descriptions and overtones.
Alternatively, you can tell DALL-E 2 to edit your photographs by providing a written description. The rubber can be used to remove certain areas of the image. For instance, you might remove the backdrop and instruct DALL-E-2 to use a different one in the description text.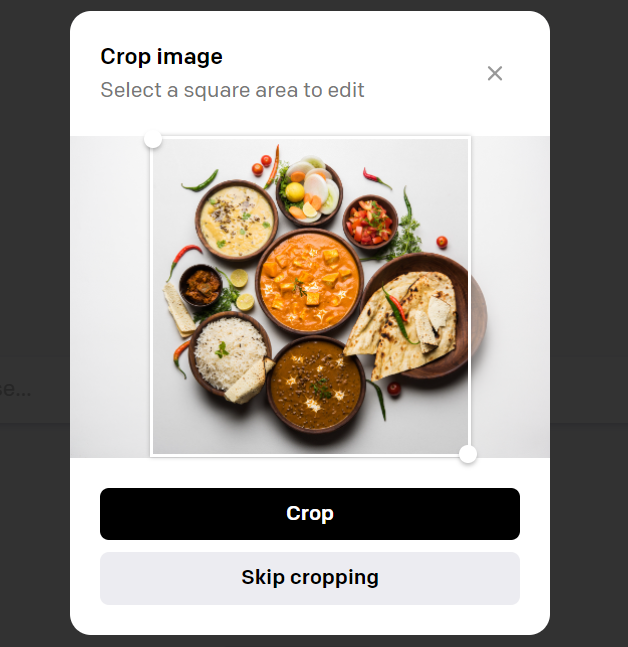 Here is a youtube video tutorial to make you understand better
How to use DALL-E 2?
Firstly register an account.
YOu can start out with 50 free credits, which are sufficient to discover the tool's functionality. Each month, you are given an additional 15 free credits, but these don't go very far, so you'll eventually need to purchase more if you plan to use the tool frequently.
You can use the program in your browser on the DALL-E 2 website once you've finished the DALL-E 2 sign-up process.
Input instructions for your desired result.
When you select "generate," DALLE will make four 1024×1024 images that it thinks best capture what you typed.
You might need to tweak your prompt to receive a response you prefer. You can download the image on the next screen.
Additionally, you may change the image (choose "edit" to get tools like an eraser). Use the eraser to upload an additional image to add to the AI creation or to add additional squares to enlarge your artwork).
You can make image variations; DALL-E 2 will create multiple variations of the original image.
How to write prompts for DALL-E 2?
It makes sense to attempt to make the most of the 400 characters you have available because prompts that are low on details tend to be haphazard. For instance, knowing the make and model of the camera you used, the focal length of the lens you used, and the kind of lighting you used might help you produce more lifelike photographs.
How do DALL-E 2 credits work?
You must have credits to use and access the DALL-E-2 AI picture generator. As soon as you sign up, you'll earn free credits, which gets spent as you create AI photos. Important things to keep I'm mind while using it:
Before April 6th, 2023, everyone gets 50 free credits for signing up in the first month and 15 free credits in the following month.
You must use the free credits before they expire because they do not carry over to the following month. You will get 15 free credits each month, use them wisely.
For instance, if you received your initial free credits on December 2nd, the subsequent set would be made available on January 2nd. You will lose one credit for each time you click "generate image."
Receive four photos for every credit from a single text description.
You must purchase DALL-E-2 credits after using all of your free credits. You can do this by selecting "Buy Credits" from the drop-down menu for your profile photo. For $15, you'll receive 115 credits.
The bought credits have a 12-month validity period, as opposed to the month-long validity of the free credits.
Credits, both free and purchased, can be distributed among employees of organisations. However, just the business.
Creating custom art with DALL-E 2
Even if you are a mere beginner, this ai image generator comes with easy steps.
1. Register for a DALL-E-2 account.
2. You'll get free credits if you join before April 6th, 2023.
3. View the text descriptions of the DALL-E-2 artists by viewing the inspiration photographs.
4. Make up a sentence that would make it easy to create, then type it into the search field.
5. After you have completed your text description, click "Generate".
6. You will get four options with four different image possibilities.
7. Tweak the search term if none of the photographs satisfies your requirements.
8. Save the picture to the gallery for the DALL-E-2.
Outpainting images in DALL-E 2
Click "upload an image" or search through history for the picture you wish to alter. It will ask you to crop it into a square, but you can omit to do so. After that, select Add Generation Frame from the fourth menu. There is now a square that you may position so that it expands your image in the desired direction. After describing your desired outcome in the popup area, click Generate. Again, you'll have four options to choose from.
Inpainting images in DALL-E 2
DALL-E 2 has the capability of "inpainting," which allows it to add missing pixels to an image based on surrounding details. For instance, if a person's face is missing from a photograph, DALL-E 2 can make a convincing substitute using the surrounding visual context. Potential uses for this capability include medical imaging, video restoration, and photo editing. That's why you must try inpainting.
Advantages of using DALL.E 2
Creating realistic images with great illustration styles is possible.
In relation to the text description four image possibilities. The free credit you four image possibilities that can help you get the best images.
User friendly.
This text-to-image ai is a time saviour.
One of the best ai image generations is dall-e 2.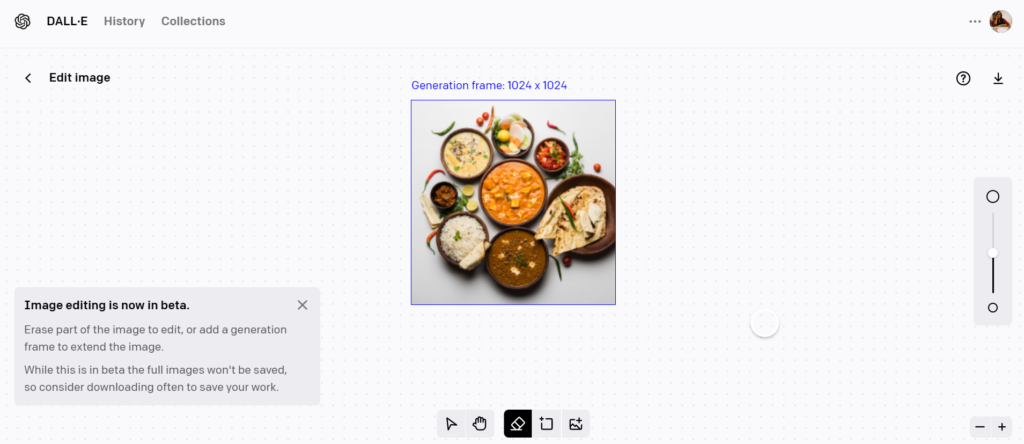 You can create and erase images from scratch.
This ai model is able to perform image editing, oil painting, outpainting, and inpainting.
You can get whatever result you want.
Limitations of DALLE 2
Even texts that are coherent sometimes fail to produce the desired visuals.
It finds it difficult to relate qualities to things.
It struggles to produce intricate graphics.
The photos themselves are not monetizable.
It finds it difficult to create photos with several people in them.
Airbrush – The Best Alternative
Airbrush.ai is a revolutionary AI technology enabling users to create original stock photos, NFTs, art, and more in seconds. With Airbrush, users can save time and money by eliminating the need for photoshoots and allowing them to generate high-quality images for every use-case. Airbrush gives a wide range of DALLE 2 visuals which are available for use in various projects, including commercials, websites, and presentations.
Airbrush makes it easy for you to choose from a variety of price possibilities to find the perfect image for your project. You may also store your favorite photos for easy and quick access and search for photos using tags or keywords. You only need to sign up for a free account to use it. Therefore, setting up requires less time.
Free plan: $0.0 per month,
20 Image Credits,
image enlargement,
text-to-image conversion,
image history,
and public gallery
Premium plan: $9.00 per month,
Image Upscaling,
Blog Article Cover,
Image to Text Converter,
Image History,
Public Gallery,
500 Image Credits
Ready to take your image game to the next level? Sign up now for Airbrush and explore all the amazing features powered by AI technology that will transform your images! Join the Airbrush community now and take your creativity to new heights!