Sometimes you simply don't have the time to hire a photographer to take the pictures you require. However, you still want high quality images that appear to have been taken by a pro. Stock photography is useful in this situation.
There are numerous websites out there that cater to those in this predicament and offer high-quality images. In this article, we will cover the contents and essential features of Fotolia by Adobe, its pricing, and much more. Keep reading to learn more!
FOTOLIA by Adobe(royalty-free stock photo)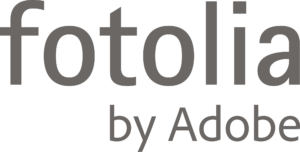 The first global social marketplace for royalty-free stock photos, Fotolia enables both amateurs and professionals to exchange and legally purchase stock photos and illustrations. The greatest image library of cost-effective, royalty-free images is provided by Fotolia. These images are ideal for use in print or on the web. Thousands of new images and illustrations are consistently added to Fotolia each day by photographers and designers, who also profit from advertising in the free part and a commission on each sale of an image.
Some features of Fotolia are:
·         A substantial portion of their stock photo (and vector graphics) and video library comes from contributors who submit their work for the agency to license.
·        Customers can register, search, and purchase the desired images on the company's website where they can also access the catalogue.
·        They are highly relevant in the European stock photo market and have a wide selection of images with a European aesthetic (i.e., European models, settings, and settings). However, that doesn't make their offer in terms of pictures with a broader global feel any less fantastic.
Pros and Cons of Fotolia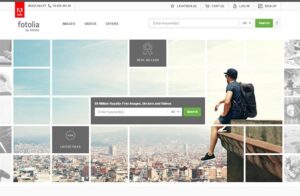 Pros:
·        There are more than 57 million images, vectors, drawings, and videos.
·        Images on demand with credits (see our full article on credits for more information about this micro-stock purchase unit.)
·        (Similar to a subscription with monthly download restrictions) Monthly image packs
·        monthly payments with daily download restrictions
·        The Standard license includes multi-seat rights (enabling several users to access the same account and downloaded photographs) and unlimited print runs.
·        Available exclusively with credits, extended license for use in items intended for resale.
Cons:
·        You can spend extra if you buy your files with credits.
·        An x-small image typically costs 1 credit however each image has a distinct credit price.
·        The cost of an image can differ depending on the photographer. Some seasoned photographers charge more per picture than novices.
Pricing Structure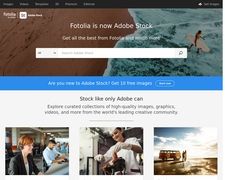 Although complicated, Fotolia's price structure guarantees to meet all of your buyer needs. But in order to take advantage of this system and save the most money possible, you must comprehend the specifics of how each purchasing choice functions and what advantages it offers. Here it is then:
Demand Images:
·        The cost of a single photograph varies with image size, ranging from 1 credit for an XS to 10 credits for an XL.
·        The cost of a credit varies depending on the quantity of the credit pack purchased, starting at $1.40 for a pack of 10 credits (for $14) and falling as low as $0.74 for a pack of 9400 credits.
·        Up to 2021, they are offering new customers a 20% discount on their initial credit purchase.
So, Fotolia's on demand pricing structure looks like this:
| | | |
| --- | --- | --- |
| Credit Pack | Credit Pack Price | Price per Image – Large size |
| 10 | $11.20 | $8.96 |
| 26 | $28.00 | $8.62 |
| 54 | $56.00 | $8.30 |
| 112 | $112.00 | $8.00 |
Monthly Packages:
·        Depending on the size of the image, different numbers of downloads are permitted for image packs.
·        There are numerous alternatives between packs of 5 XXL images (or 10 Medium images) for $25 and 1000 XXL images (or 2000 Medium images) for $800. You can reduce the cost of each image by between 20 and 84% by doing this.
·        As long as you renew your subscription, all unused downloads carry over to the following month's image packs.
·        Up to 2021, they are offering new customers a special deal that will save them 20% off the standard price of their first image pack purchase.
So, the structure is:
Price per Image
Pack Price
Medium Images
Extra Large Images
Saves from On Demand
$20.00
$2.00
$4.00
20%
$32.00
$1.60
$3.20
36%
$60.00
$1.20
$2.40
52%
$80.00
$0.80
$1.60
68%
Fotolia's Daily Limits:
| | | |
| --- | --- | --- |
| Daily Images Limit | Monthly Price | Price per Image |
| 25 | $249.00 | $0.33 |
| 100 | $937.00 | $0.31 |
| 200 | $1,753.00 | $0.29 |
That's it for the pricing structure.
What advantages are offered by Airbrush AI over Fotolia?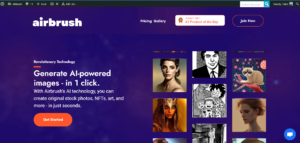 You can utilize Airbrush AI to quickly produce stunning photos and artwork. Think back to the hours you devoted to locating the ideal photograph for your blog or presentation. You searched through several photographs but were unsuccessful in finding them, so you were forced to use a less-than-ideal but functional image. Imagine if artificial intelligence (AI) could instantly transform your ideas into works of art. Airbrush accomplishes this.
Just type a few words that briefly describe the picture in your head, then click "Generate." After that, relax while AI instantly realizes your dreams. If the text for your blog post is prepared, you can quickly make the cover image by pasting it into Airbrush.
It is pretty evident that Airbrush AI is extremely simple and free to use and offers features and qualities that are not offered by Fotolia or other AI image generators. Therefore, Airbrush is for you whether you're a team leader seeking to get the best out of everyone, a graphic designer looking to push the envelope of creativity, a blogger or writer looking for that copyright-free stock photo, or someone looking to make money selling NFTs.
So, that's all for now. We appreciate your time and effort. If you have any suggestions, you may leave them in the comment section below. Thank you!