Sometimes you simply don't have the time to hire a photographer to take the pictures you require. However, you still want photos that are of a high caliber and appear to have been taken by a pro. Stock photos are useful in this situation.
There are numerous websites out there that cater to those in this predicament and offer high-quality images. Here are some things you should know about Pexels, one of these websites that is very popular.
What is Pexels?
A stock photo website called Pexels offers its users all over the world thousands of high-quality, no-cost stock photos and movies. Pexels is a relatively new player in the community when compared to several other free stock image websites, such as Pixabay.
Pexels goal is to empower creators by giving them access to a library of timely, artistic, and ready-to-use photos, graphics, videos and other media. This includes designers, marketers, artists, programmers, and other professional creatives.
The Pexels License is a creative common zero license that permits Pexels users to view and use every image on the site for free and without attribution and applies to all of the images on Pexels. Pexels offers top-notch images for creatives on a tight budget without charging exorbitant subscription or per-image usage fees.
For photographers and digital artists wishing to establish a portfolio and a name for themselves, Pexels is a fantastic site. Pexels customers can access the greatest images after they have been carefully reviewed after being published by artists.
Features of Pexels (Types of Images Offered for Free):
Stock images: If you browse the Pexels website, you'll discover that this free stock platform is built on top-notch, genuine stock photos. Stock photography is Pexels' primary specialty, and they excel at it. The several ways Pexels makes it simple for their users to search for and discover new images set them apart from other free stock photo websites. They include the standard search box that you can find on almost every other website, but they also allow you to look through photographs based on themes like fashion, travel, technology, abstract art, and color, to name a few.
Illustrations and Vectors: You'll find inclusive illustrations and vectors in the Pexels database, but you'll need to look hard for them. With simple navigation, some websites, like Pixabay, make it simpler to find these kinds of pictures. You can locate images and vectors on Pexels by typing those precise phrases into the search field.
Business Videos: Pexels offers a huge collection of free stock videos that have been both posted by content producers and culled from other free stock websites. The videos on the Pexels website are absolutely free to use and do not require any kind of attribution. There is a straightforward drop-down menu mechanism that will bring you to their video library. When you click on one that catches your attention, Pexels improves the user experience by offering you a sizable number of options for related video content to browse.
Pricing: (Free Stock Photos)
Pexels provides a single, cost-free subscription for all users. Users do not need a Pexels account to download and utilize Pexels photographs; there are no subscription or membership costs.
How is Airbrush better than Pexels?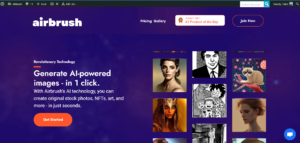 You can utilize Airbrush AI to quickly produce stunning photos and artwork. Think back to the hours you devoted to locating the ideal photograph for your blog or presentation. You searched through several photographs but were unsuccessful in finding them, so you were forced to use a less-than-ideal but functional image. Imagine if artificial intelligence (AI) could instantly transform your ideas into works of art. Airbrush accomplishes this.
Just type a few words that briefly describe the picture in your head, then click "Generate." After that, relax while AI instantly realizes your dreams. If the text for your blog post is prepared, you can quickly make the cover image by pasting it into Airbrush.
It is pretty evident that Airbrush AI is extremely simple and free to use and offers features and qualities that are not offered by Pexels or other AI image generators. Therefore, Airbrush is for you whether you're a team leader seeking to get the best out of everyone, a graphic designer looking to push the envelope of creativity, a blogger or writer looking for that copyright-free stock photo, or someone looking to make money selling NFTs.
So, that's all for now. We appreciate your time and effort. If you have any suggestions, you may leave them in the comment section below.
Thankyou!