In recent years, the field of photo editing and graphic design has seen a significant transformation thanks to the introduction of artificial intelligence (AI) tools. With the increasing demand for visually stunning and compelling content, AI-powered software has become a game-changer for creative professionals and amateurs alike. These tools leverage machine learning algorithms to automate repetitive tasks, enhance images, and generate unique designs, saving time and effort for users. Whether you're a photographer, graphic designer, or social media influencer, these AI tools can help elevate your game and take your creations to the next level. In this article, we'll explore PicMonkey, the popular AI-powered photo editing, and graphic design tools, and how they are revolutionizing the creative industry. 
What is PicMonkey?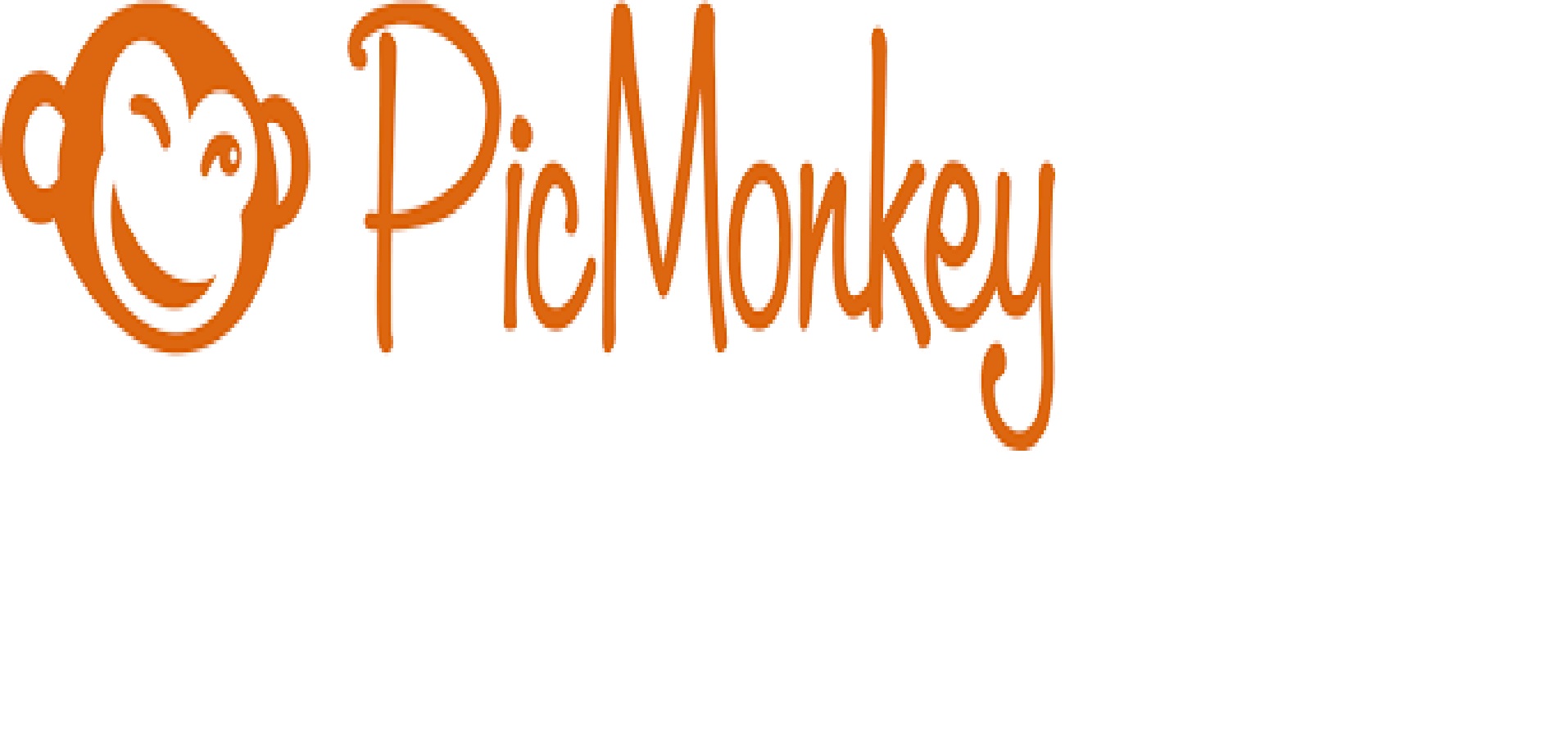 PicMonkey is an AI-powered software that has taken the creative industry by storm, gaining a loyal fan base among photographers, designers, and social media influencers. With its sleek and user-friendly interface, PicMonkey offers a range of editing options, from simple color corrections to more advanced features like skin retouching and background removal. What sets PicMonkey apart from other editing tools is its ability to generate unique designs using machine learning algorithms. This means you can create visually stunning, eye-catching content like banners, YouTube thumbnails, and collages, just like Canva, with more exciting features in minutes. PicMonkey is the perfect tool to bring your creative vision to life, whether you're a beginner or a seasoned pro.
Features of PicMonkey
PicMonkey is a feature-rich photo editing and graphic design tool that creators have tried and tested. Here are some of the most exciting features of PicMonkey and how they can help you create stunning visual content:
   

User-Friendly Interface:

PicMonkey has an intuitive and easy-to-use interface that makes photo editing and graphic design a breeze. The tools and features are organized logically, making finding what you're looking for easy.

   

Essential Editing Tools:

The software offers all the basic editing tools, including cropping, resizing, and color correction. These tools allow you to adjust the size and color of your images to create the desired effect.

   

Skin Retouching:

PicMonkey's skin retouching feature is a game-changer for portrait photographers. With just a few clicks, you can remove blemishes, wrinkles, and other imperfections, giving your subjects a flawless appearance.

   

Background Removal:

The background remover tool in PicMonkey is ideal for product photographers who need to remove the background from their images. This tool makes creating a transparent background that can be used on any website or marketing material easy.

   

Special Effects:

PicMonkey offers a range of special effects, such as overlays, textures, and filters, that can add a unique touch to your images. These effects are customizable, allowing you to adjust the intensity and placement of the impact to suit your needs.

   

Design Templates:

The software offers a range of design templates for social media, marketing materials, and other projects. These customizable templates allow adding text and images to create a unique design.

   

PicMonkey Mobile:

Although the mobile version of PicMonkey is not as comprehensive as its desktop counterpart, it still offers an extensive collection of clip art for users to select from. Furthermore, you can import your graphics and personalize them further by adjusting their colors, applying a drop shadow, or erasing specific parts of the image, all at no additional cost.
Pros & Cons of PicMonkey
PicMonkey is an online photo editing tool that allows you to edit your photos and create graphics. Here are a few pros and cons of using PicMonkey:
Pros:
   

Templates and tutorials

: PicMonkey offers a variety of templates and tutorials to help you get started. Whether you're looking to create a Facebook cover photo, a YouTube thumbnail, or an Instagram post, PicMonkey has got you covered.

   

Integration with other platforms:

PicMonkey helps integrate with popular platforms like Facebook, Twitter, and Dropbox. It allows you to share your creations on these platforms easily.

   

Versatile features:

PicMonkey offers a wide range of features that allow users to create professional-looking designs for various purposes, including social media graphics, blog posts, and marketing materials.

   

Customer support:

Many users praise PicMonkey's customer support team for their helpfulness and responsiveness.

   

Cloud-based storage

: PicMonkey's cloud-based storage allows users to access their work from anywhere, which is incredibly convenient for those who work remotely.

   

Easy sharing:

PicMonkey simplifies the sharing of designs across multiple channels, such as social media and email. Moreover, you can share albums and upload them to social networks or give friends access to view them via a tab. The "HUB" tool is highly developed and has no reported issues.
Cons:
   

Limited free trial version

: While PicMonkey offers a free version, it has limitations. For example, you can't save your high-resolution creations and can only use a limited number of templates and tools.

   

Slow loading times:

Some users have reported that PicMonkey can be slow to load, which can be frustrating if you're in a hurry.

   

Limited collaboration features

:  As per the reviewers, If you're working on a project with others, PicMonkey's collaboration features are limited. You can't invite others to edit a project with you or leave comments or feedback on a project. PicMonkey still lacks advanced features, even though It doesn't position itself as advanced software.

   

Limited file format support:

PicMonkey needs more support for file formats, which can be frustrating for users who need to work with specific file types or export files in different forms.
In summary, PicMonkey is a helpful tool for beginners and those who need to create simple designs or edit photos quickly. Now let's move on to the Pricing of PicMonkey.
Pricing of PicMonkey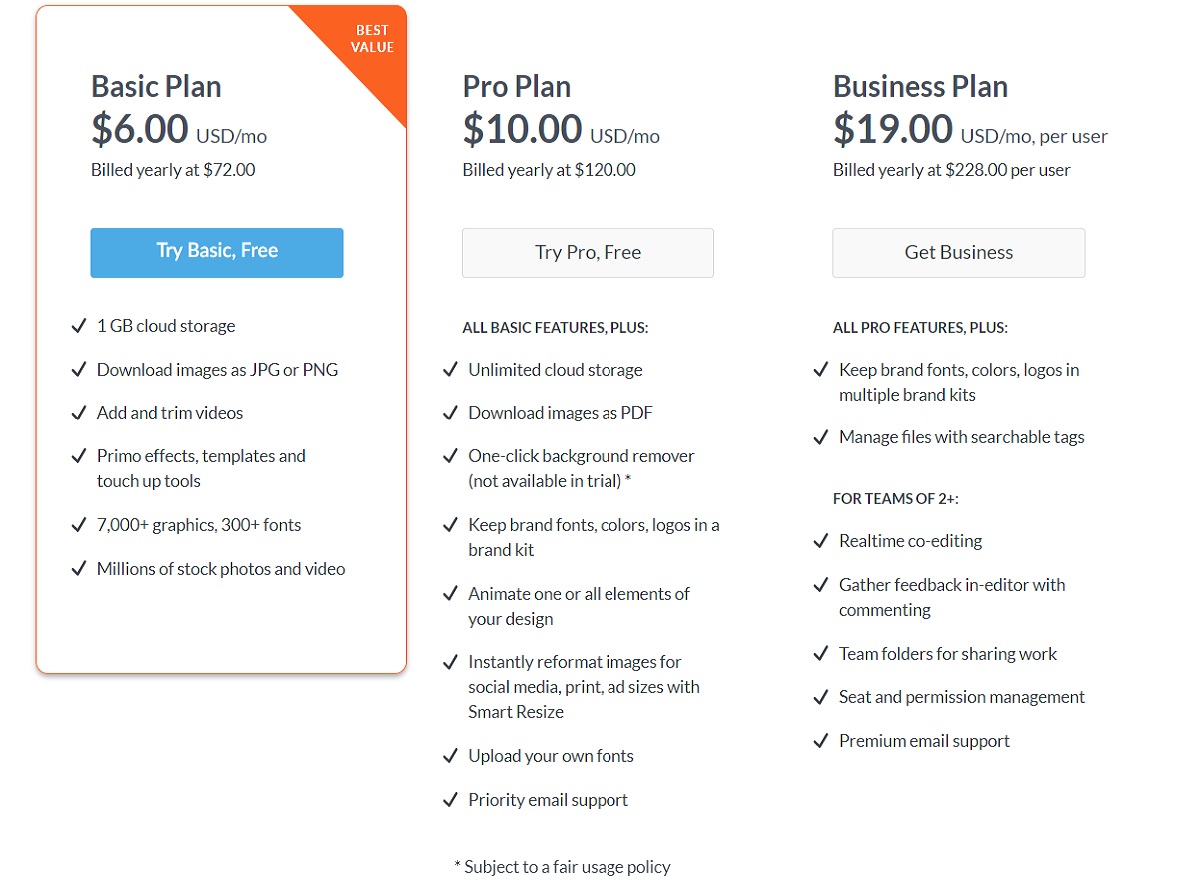 PicMonkey provides three pricing plans: Basic, Pro, and Business Plan. Here's a breakdown of what each program includes:
     

Basic Plan:

The Basic Plan is the accessible version of PicMonkey. It includes essential editing tools such as crop, resize, and exposure, along with a limited number of fonts, templates, and graphics. With the Basic Plan, you can only export your designs in low-resolution JPEG format, and you'll see ads while using the platform. It will cost you $7.99 if billed monthly or else $6 billed annually.

     

Pro Plan:

The Pro Plan is the most popular and is designed for individuals needing more advanced features. Pro Plan includes everything in the Basic Plan, plus additional editing tools such as clone, dodge and burn, and selective color. The Pro Plan also offers access to premium fonts, templates, and graphics, the ability to export designs in high-resolution PNG or PDF format, a one-click background remover feature not available in the basic plan, and many more. With the Pro Plan, you can use the platform without seeing ads. It will cost you $12.99 billed monthly or else $10 billed annually.

     

Business Plan:

The Business Plan is designed for businesses or organizations that need to collaborate on designs. It includes everything in the Pro Plan, team management tools such as shared folders, team branding, premium email support, and the ability to invite team members to collaborate on designs. The Team Plan also includes advanced security features, such as SSO and 2FA, to secure your team's creations. It costs around $23 billed monthly and $19 billed annually.
In summary, PicMonkey's pricing plans or subscriptions are designed to meet the needs of individuals and businesses of different sizes and levels of expertise. The Basic Plan is an excellent option for beginners or those on a budget, while the Pro and Business Plans offer more advanced features and tools for those who need them.
Airbrush AI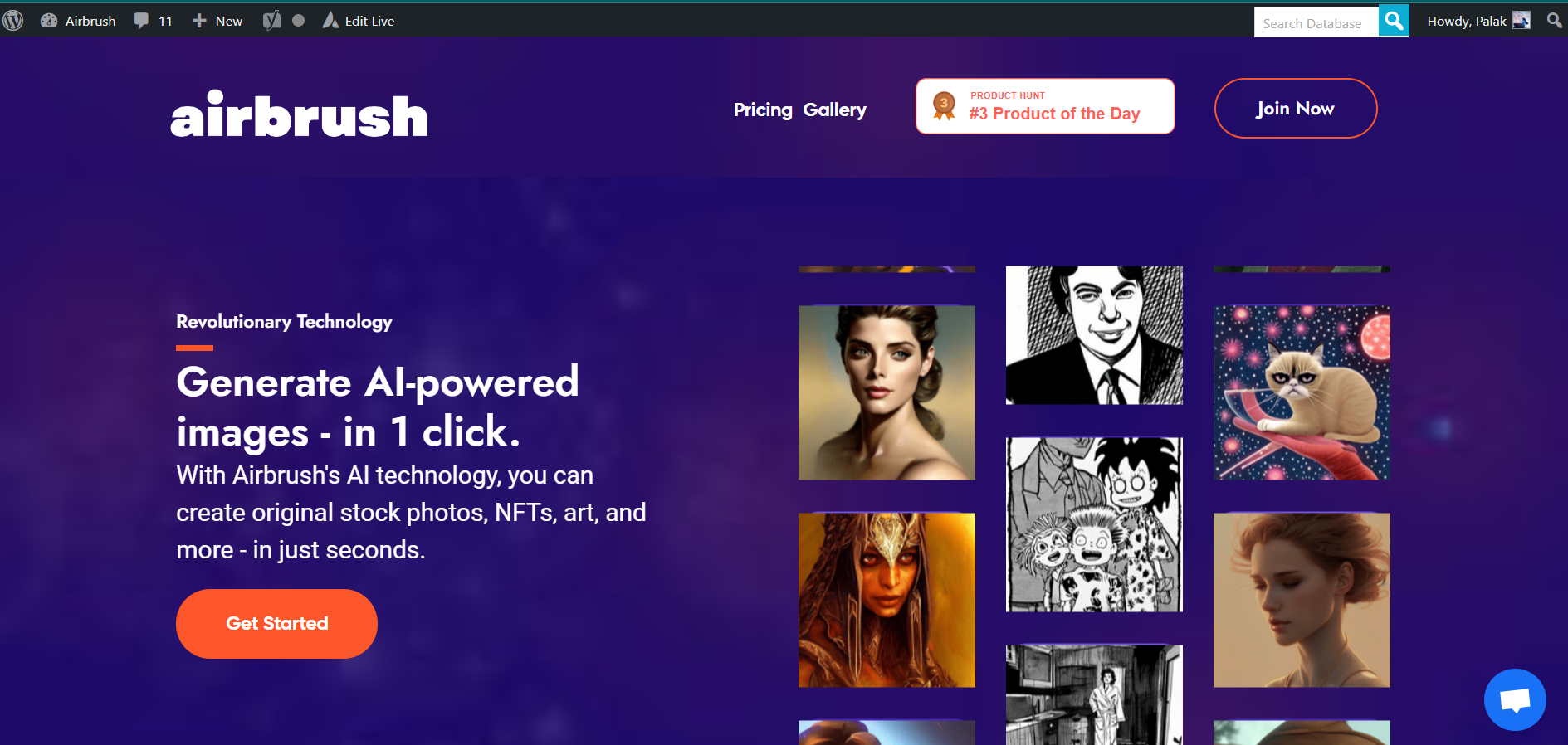 Welcome to the world of Airbrush AI – a revolutionary new software that will change how you create art forever! With Airbrush, you can generate amazing AI-generated images with just a few clicks. Whether you're an artist, a graphic designer, or someone who loves creating beautiful things, Airbrush is the perfect tool.
Some of the fascinating features of Airbrush are as follows:
     

Airbrush gives you all the fancy features of the premium plan for life, except for one tiny thing: image credit.

     

Airbrush's AI tool is a breeze, making it stand out from other photo editing tools.

     

With Airbrush, even non-experts can get professional-level photo editing done.

     

Airbrush is available online and soon on their app, promising a seamless user experience.

     

Airbrush's AI has top-of-the-line technology to enhance human features and make you look your best in photos tailored to your preferences.

     

Airbrush lets you easily create and download photos in any format you desire, from jpg to png.

     

Airbrush is a one-stop shop for creating unique visual content online, with photo editing tools to help build your brand and company logos.

     

Airbrush's image-to-text creator is a unique and highly utilized feature that differentiates it.

     

It is an online editor and AI image-creator tool with all the premium features at $9 per month, much less than PicMonkey.
Which one to choose?
In the digital age, we are all creators, constantly seeking tools to help us bring our creative visions to life. With the abundance of photo editing and graphic design software available, choosing the one that best suits our needs can be overwhelming. Two of the most popular tools in this space are PicMonkey and Airbrush AI. Both offer a range of editing and design features that cater to beginners and professionals alike. However, significant differences between the two make them unique in their way. In this comparison summary, we'll take a closer look at PicMonkey and Airbrush AI, weighing the pros and cons of each to assist you in deciding which one to choose. 
Many advanced features are available in PicMonkey, which can be used vibrantly to cater to several purposes of the content creation journey. However, Airbrush AI is focused on the AI Image generation segment with no offense in their functionality and features. Both tools can go hand in hand. Here you can create the AI images on Airbrush AI as per your wish, and the same can be used in PicMonkey for creating banners, thumbnails, and a lot more. However, the pricing of Airbrush is significantly less and pocket friendly. So, it all depends on what fits you best in terms of features and budget. 
Anyways, that's all for now. Whether you're a social media influencer, a photographer, or a marketer, try it to take your creativity to the next level. If you have any suggestions, you can leave them in the comments section. We would appreciate hearing from you! 
All the best!