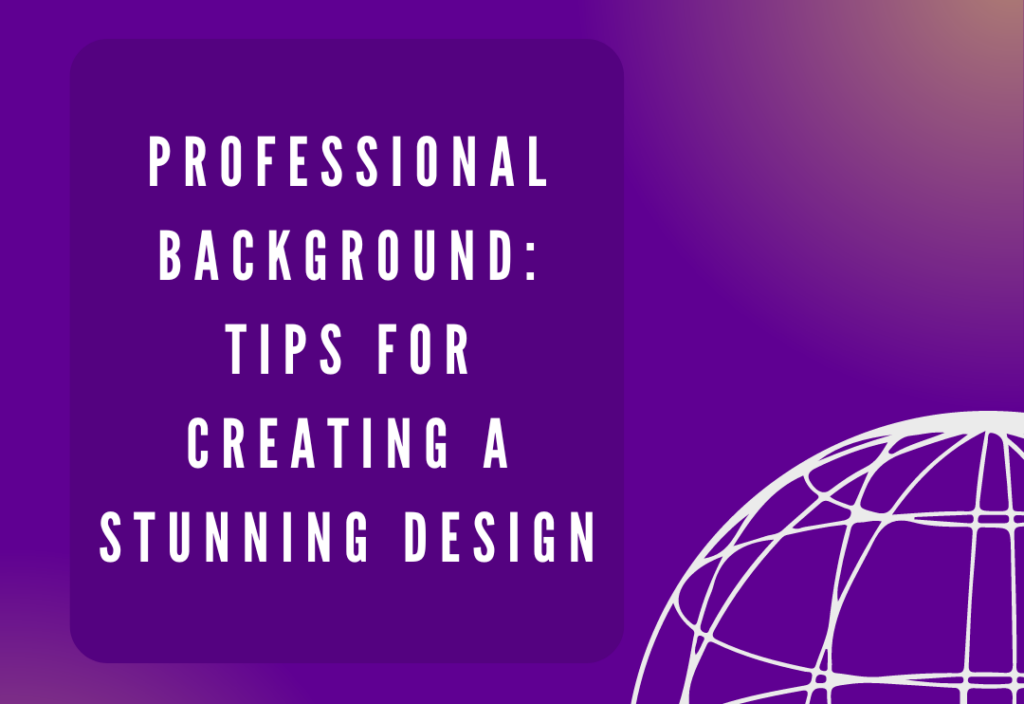 Design is a crucial element of any professional portfolio or resume. It showcases your skills, creativity, and professionalism. Whether you are a graphic designer, web designer, or UI/UX designer, a stunning design can set you apart from the competition and impress potential employers. The professional background section of your portfolio is particularly important because it summarizes your education, work experience, and skills.
In this article, we will explore tips for creating a stunning design for your professional background section, including selecting the right layout, using the right colors, choosing the right fonts, and organizing your content effectively. By following these tips, you can create an impressive and eye-catching professional background that will leave a lasting impression on potential employers.   
How to Make Your Own Professional Background
There is a lot more to becoming a graphic designer than first appears. It involves hearing a concept and converting it into a narrative. Something that will effectively communicate the core idea and strike a chord with the audience. As a designer, you can use all graphic elements—colors, fonts, elements, textures, etc.—to convey this tale uniquely. While you can be creative and select your aesthetic, each design is a new, original work of art brought into the world. Nevertheless, every designer should know several crucial graphic design fundamentals and tips. 
Let's start learning about the procedures to produce excellent graphic design.
Consider Alignment Carefully:
Using deliberate alignment in your visual design is essential. You don't want a part of your design to look weird. Even slight spacing and positioning mistakes will be evident to observers. You don't necessarily have to stack things directly on top of one another when you align your graphic design elements. However, they must always be positioned correctly.
Include Icons and Logos to Make Your Point:
Clear, Strategically placed icons and logos can significantly influence the look and feel of your branded visuals. A well-placed well-known icon or your logo will give even more of your brand's flavor to an image in addition to utilizing your brand's colors and fonts.
Limit Your Font Selection:
Just as crucial as respecting the space in your image is minimizing the fonts you choose. Use clear, simple fonts to read and stand out against your chosen background. If they are difficult to read against your backdrop image, consider placing a solid shape behind the text as a sort of container, such as a circle, square, or rectangle.
We left the most excellent advice for last: make things straightforward. Simplicity, clarity, and cleanliness are the keys to effective graphic design. This enables the viewer to quickly scan the material without getting overwhelmed.
Utilise Contrasting Colours to Draw Attention:
Contrasting colors aid in directing the viewer's attention to the desired area. Additionally, a correctly contrasted palette may guarantee that your designs are usable and aesthetically beautiful. 
Remember to use mobile while creating pictures for your brand. Over 90% of internet users worldwide used mobile devices as of 2021. Statista data shows that over 56.89% of internet traffic worldwide is also used on mobile devices. This means you must recognize the need to optimize your photos for mobile consumers.
Airbrush.AI
Airbrush has a versatile technique that offers a wide range of creative possibilities. By incorporating AI image creation tools, image-to-text features, and other special features, artists can take their designs to the next level and create truly unique and captivating works of art.
From straightforward logos and graphics to intricate photorealistic designs, airbrush has a variety of techniques that can be applied. Airbrush artists can produce a variety of textures, smooth gradients, and fine details by manipulating the flow of air and paint.

Image-to-text conversion is another tool to improve airbrush designs. This enables designers to produce artwork based on particular text inputs, like names, slogans, or phrases. Using specialised stencils or masks, artists can apply these patterns to various surfaces, such as fabrics, walls, and automobiles.

With special effects, such as glitter or metallic finishes, and 3D, Airbrush can produce intricate designs that can be applied using various methods. These are other aspects that can be employed to make the best designs.
Airbrush makes it easy to choose from various price possibilities to find the perfect image for your project. You may also store your favorite photos for easy and quick access and search for photos using tags or keywords. You only need to sign up for a free account to use it. Therefore, setting up requires less time.
Ready to take your image game to the next level? Sign up now for Airbrush and explore all the amazing features powered by AI technology that will transform your images! Join the Airbrush community now and take your creativity to new heights!