For many aspiring artists who want to experiment with this art form, AI Art generation is typically a time-consuming procedure that necessitates technical knowledge. Through the smartphone and web apps, Starryai makes this process easy and intuitive to help combat this and make AI art more accessible.‍
What is StarryAI?
Starry AI turns your words into artistic creations after you simply input a text prompt.‍ Simply by expressing what you want to see, you can create art, and this artificial intelligence will turn your words into works of art. Create up to five watermark-free, complementary artworks each day! Take complete responsibility for your creations! Print them out or post them on social media to use for your upcoming art project.
To make your works unique, select from a wide range of models, styles, aspect ratios, and starting images with the help of Starry AI. They help you create images by utilizing the most advanced AI techniques. To guarantee that your creations get better, the models undergo regular updates! This AI art generator software is called Starry AI. This AI will create works of art from the text you input by simply following the prompts.
How to generate art using Starry AI? (Create AI ART)
Altair and Orion's early images are usable on Starry AI. As a result, users can make an image on Altair, enter it as a starting point on Orion, and vice versa to create their artworks, expanding the app's capabilities in all directions.
Users are encouraged to try and iterate their AI art creation numerous times to produce beautiful results, as is true in any other process of creating art. In order to create original artworks that reflect the user's artistic style, various text prompt variations, style exploration, the use of initial images, and experimentation with iteration are some of the methods.‍
It is quite simple to use Starry AI by following simple steps, first starting with the text prompt, then continue to the initial image, styles, canvas size and runtime.
Pros and Cons of using Starry AI
Starry AI can easily produce various styles of your choice or of other artists.
However, the number of credits to start with are immensely small.
Packages offered by StarryAI (Pricings):
You can join the app for free with the following advantages:
More than one thousand styles
Created in bulk
Customize styles
Upscale
The first 5 credits are absolutely free!
Pricing plans start from $15.99.
What advantages does Airbrush AI offer over StarryAI?
You need look no further than Airbrush if you want pictures of the highest calibre. A broad range of images from Airbrush are available for use in a variety of projects, including presentations, websites, and advertisements. You can choose from a number of pricing choices at Airbrush to find the ideal image for your project. Additionally, you can save your favourite images for fast and simple access while searching for the ideal image using keywords or tags. By making your own stock photos, you can save time and money. Get results from your home or workplace computer, that appear professional. Get the professional-level photos you require without having to conduct a photo session. The user-friendly interface of Airbrush makes it simple to create images, drawings, and artwork.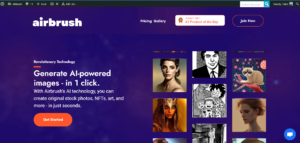 An effective tool for creating and sharing visual material, it's intended to make it simple to produce and distribute professional-caliber graphics online without any prior design knowledge. It is straightforward to use and does not require any complexity to complete simple tasks. With just a few mouse clicks, Airbrush enables you to quickly create stunning images, animations, and social media templates that you can share on social media with friends, coworkers, or even sell! The use of an airbrush has many advantages. There are numerous additional aspects of the airbrush that you can purchase or use for a much smaller fee—almost nothing at all.
Anyways that's all for now. We hope this article helped you understand the uses of both Starry AI and Airbrush AI. This will help you make an informed decision based on your needs. Please let us know your thoughts in the comment box given below. Thank you!