Welcome to the world of visual storytelling, where images speak louder than words. In today's fast-paced digital world, we are constantly bombarded with immense information and visuals that compete for our attention. Amidst all this noise, the power of visual communication has emerged as a game-changer. Images can captivate, convey emotion, and tell a story in a way that words alone simply cannot. This is where Yay Images comes in, providing a creative outlet to showcase your visual creations and connect with a global audience. Whether you're a professional photographer, a graphic designer, a freelancer, or someone with a passion for visual storytelling, Yayimages offers endless opportunities to unleash your creativity and share your unique perspective with the world. So, let's dive into the world of visual content creation and explore the endless possibilities that await.
What are Yay Images?
Yay, Images is the perfect choice if you're searching for a top-notch platform to cater to all your visual content needs! This innovative platform is a one-stop shop for high-quality images, illustrations, editorials, videos, and vectors that can take your content to the next level. With an extensive library of over 13.5 million royalty-free stock images, Yay Images has everything you need to create captivating visuals for your brand, blog, or social media presence. One of the most impressive features of Yay Images is its user-friendly interface, which makes it easy to find the perfect image for your project. With lightning-fast search capabilities, you can quickly narrow your options and see what you need. Plus, their advanced search filters allow you to search by color, orientation, and copy space, making finding the perfect image for your needs easier.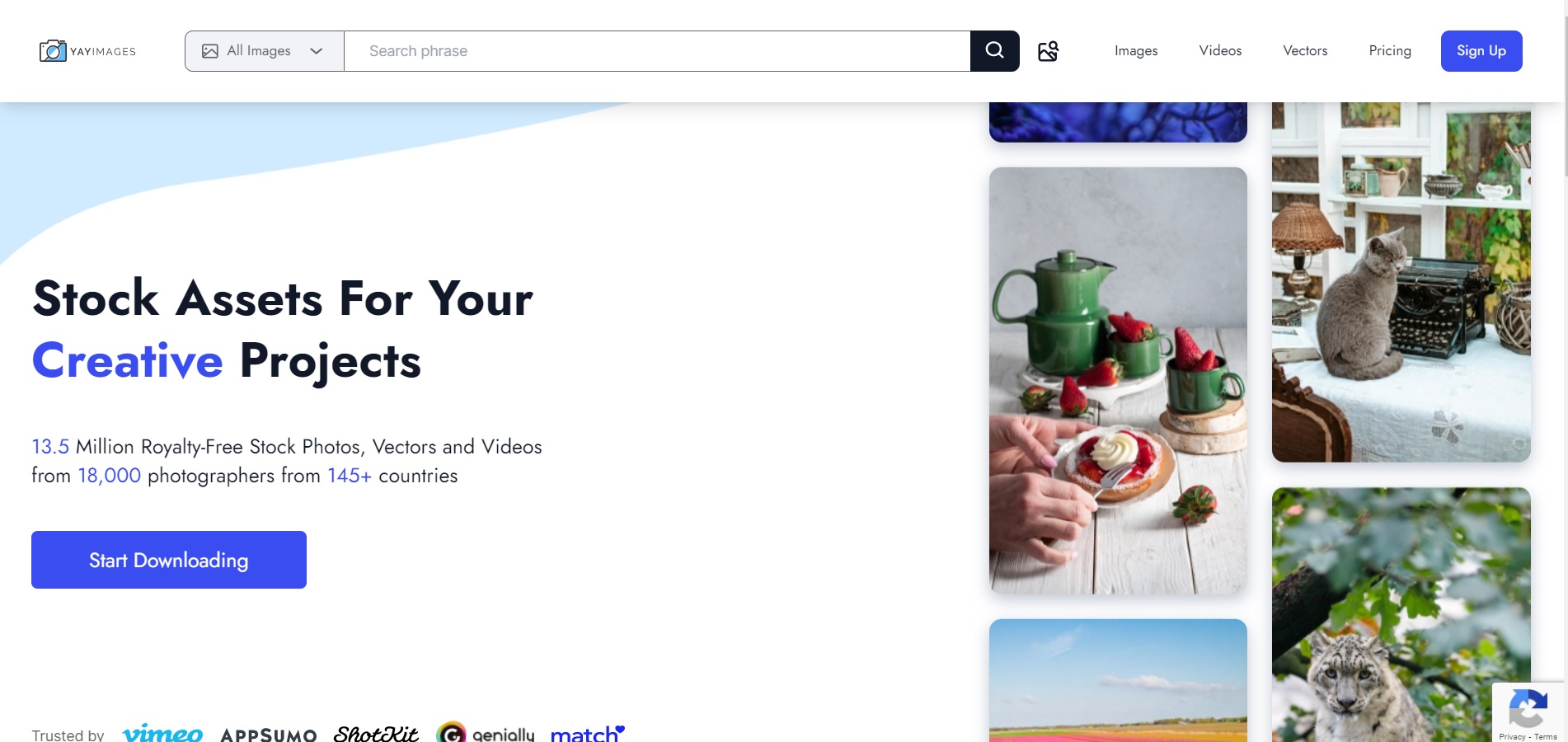 Another advantage of Yay Images is their affordable pricing plans, which cater to businesses and individuals alike. Whether you need a few images for a small project or access to unlimited downloads, Yay Images has the plan to suit your budget. Their simple pricing structure means you'll always know hidden fees or unexpected charges. But that's not all – Yay Images also offers a range of other features, including free trial options, customizable subscription plans, and the ability to purchase individual images as needed. And with a focus on sustainability and ethical sourcing, you can rest assured that the photos you choose from Yay Images are stunning and ethically and responsibly sourced. If you are a photographer and want to contribute and sell your images through Yay Images, you must start by signing up on the platform. Then you can login and upload your pictures. This way, you can create your earning cycle.
So, whether you're a blogger, social media manager, marketer, or creative professional, Yay Images has everything you need to take your visual content game to the next level. With its vast library of high-quality images, lightning-fast search capabilities, and affordable pricing plans, Yay Images is a game-changer in visual content creation.
Features of Yay Images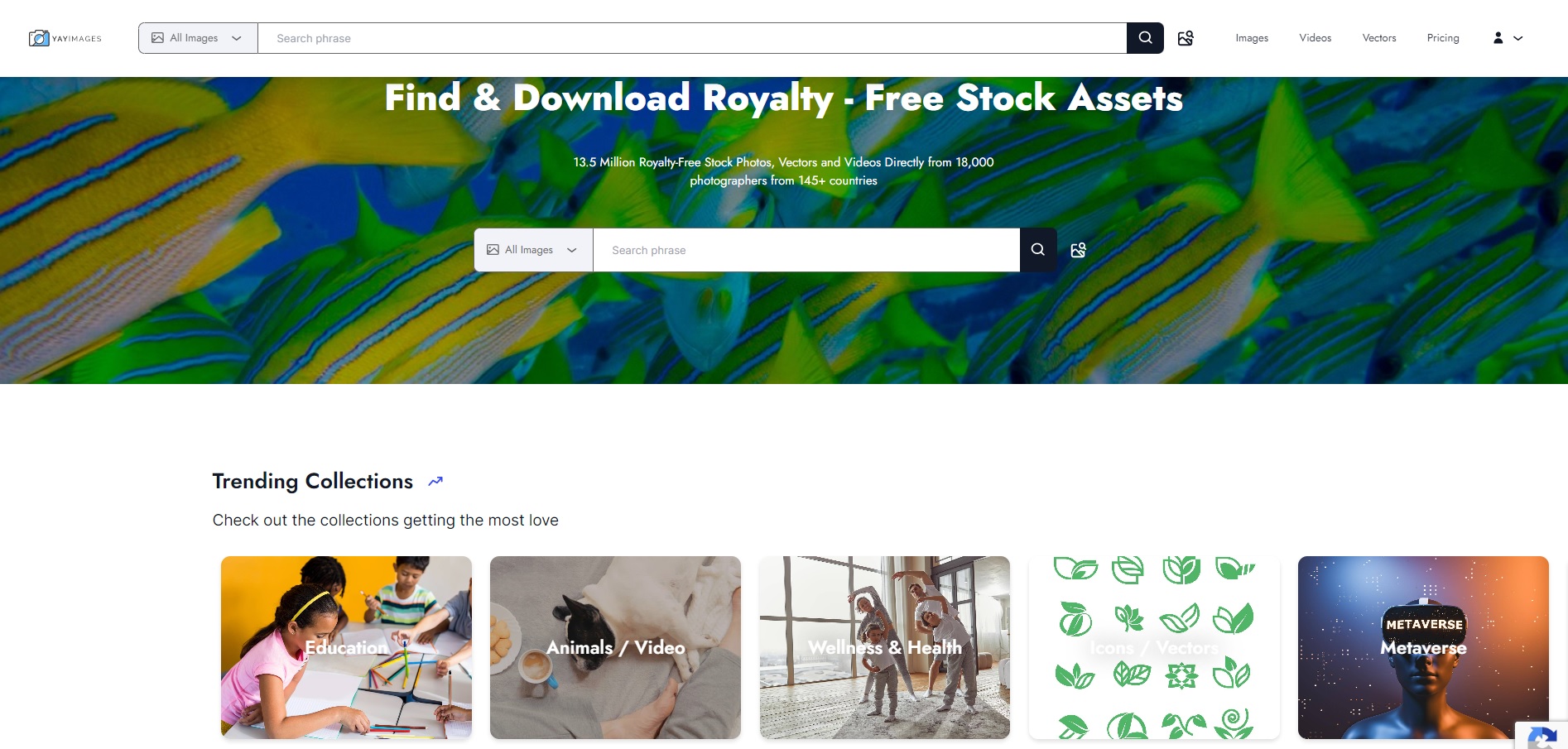 Here are some of the fantastic features that Yay Images has to offer:
     

Unrivaled Library of 12 Million+ Images:

With Yay Images, you can access an unparalleled library of over 12 million premium stock photos, vectors, and illustrations. This massive collection ensures you'll always have high-quality stock assets for your creative projects or marketing campaigns.

     

Exceptional Search Features:

Yay Images' remarkable search features make finding the perfect image for your project a breeze. The platform allows you to search by keyword or photographer or apply filters to refine your search based on color, orientation, text space, and people. For instance, if you need a picture of a dog on a blue background, the color filter can help you quickly find relevant images. Similarly, if you require vertical photos for your Instagram campaign, the orientation filter will help you find exactly what you need.

     

Reverse Image and Similar Image Search:

Yay Images incorporates a reverse image search feature that assists you in finding the same photograph or images with a similar color palette. Moreover, the similar image search finds images that are visually similar to the one you've selected. For example, suppose you have a picture of a peacock and want to find similar images. In that case, you can effortlessly drag and drop the original photo into the similar image search field, and Yay Images will pull more options for peacock photos.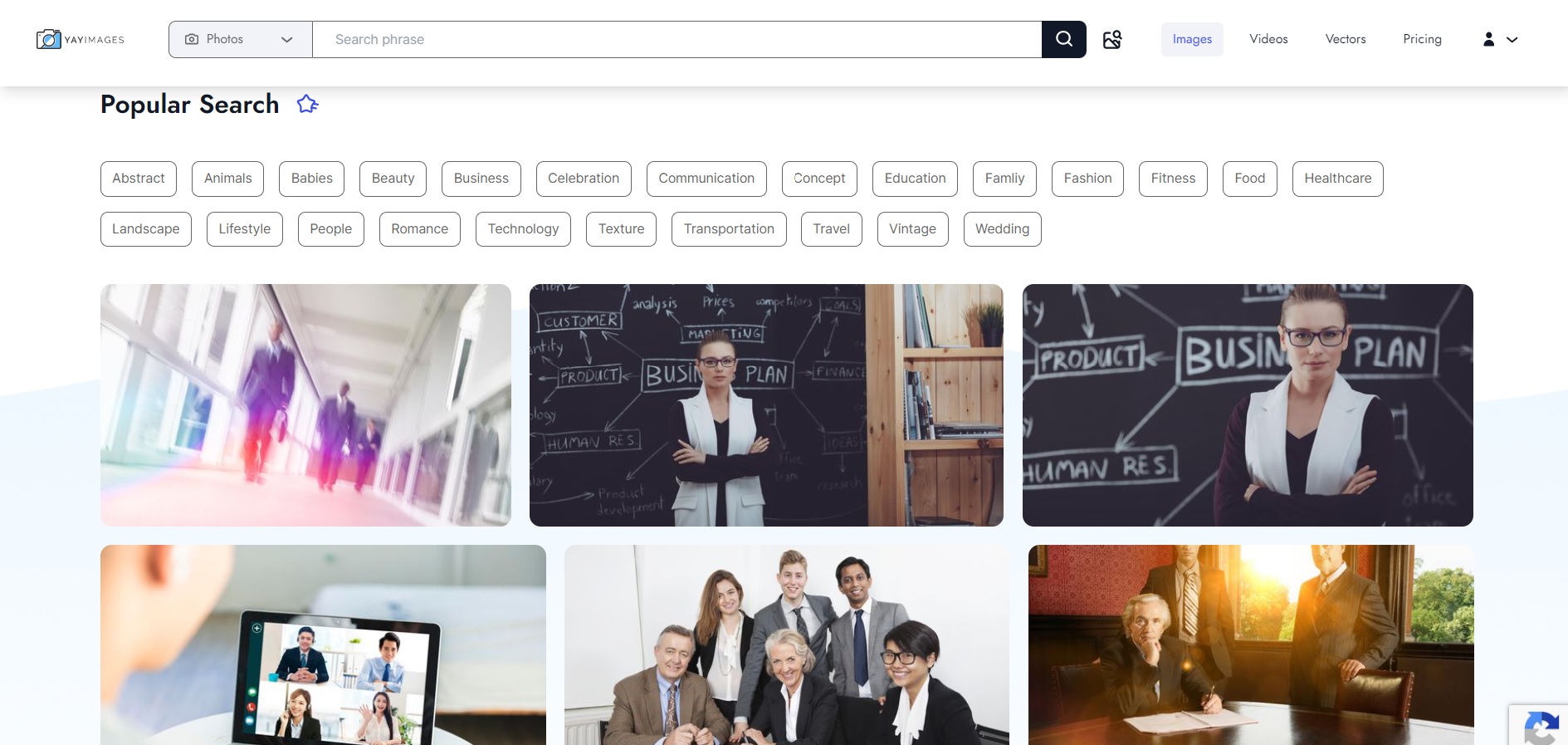 Favorites and Folders:

Once you've found the perfect image, you can save it as a favorite or categorize it into folders for easy access later. This feature ensures you keep track of your favorite photos and can easily access them whenever needed.

     

Affordable and Versatile Licensing:

All the images you license from Yay Images can be used for nearly anything, from advertising and marketing to blogs, books, TV, and movies. Yay, Images provides budget-friendly pricing plans that suit every budget, making it accessible to everyone.
These were some exciting features of Yay Images; now, let's move on to its pricing.
Pricing of Yay Images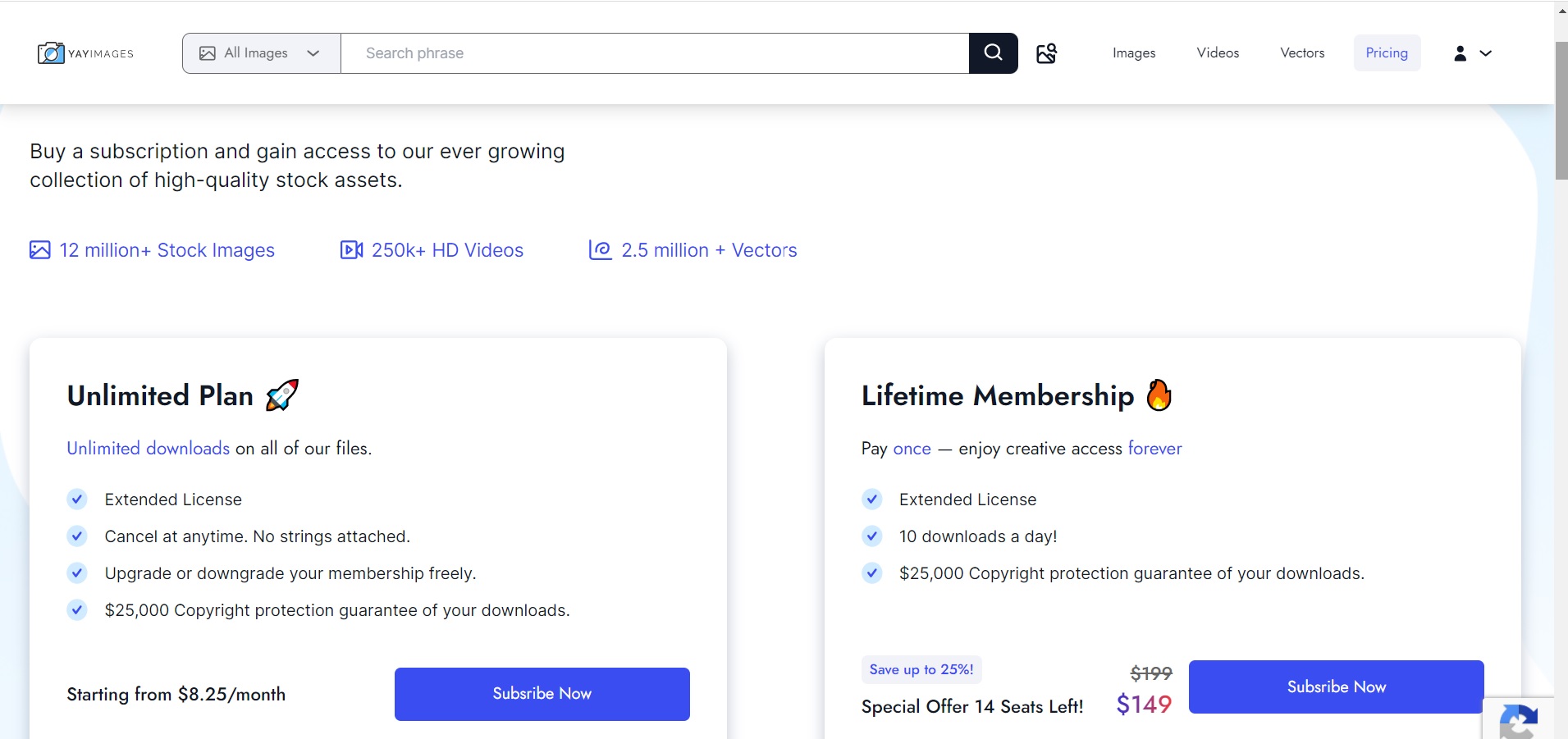 Yay, Images offers flexible pricing plans that cater to the needs of different users. Here are the details of their pricing plans:
     

Free Plan:

You can download the asset without paying a single penny. However, you don't get unlimited download options like in the premium plans. It is limited to up to 10 download credits only.

     

Unlimited Plan:

It offers an Extended License; cancel at any time. You have the complete freedom to upgrade or downgrade your membership without any obligations or commitments. And a $25,000 Copyright protection guarantee for your downloads, just $8.25 monthly.

     

Lifetime membership:

Lifetime membership is one of the recommended plans. It provides access to all the assets, as in the case of an unlimited plan with lifetime access without charging anything extra. It can be purchased at $149.
You can go for one which suits your need!
Customer Reviews for Yay Images
Yay, Images has lots of positive reviews. Customers are enjoying their services without any hustle. However, few have complained that it is not the best stock photo site as many a time, the images you are looking for are not found in their libraries. Which ultimately demotivates the users!
How can Airbrush AI be helpful over Yay Images?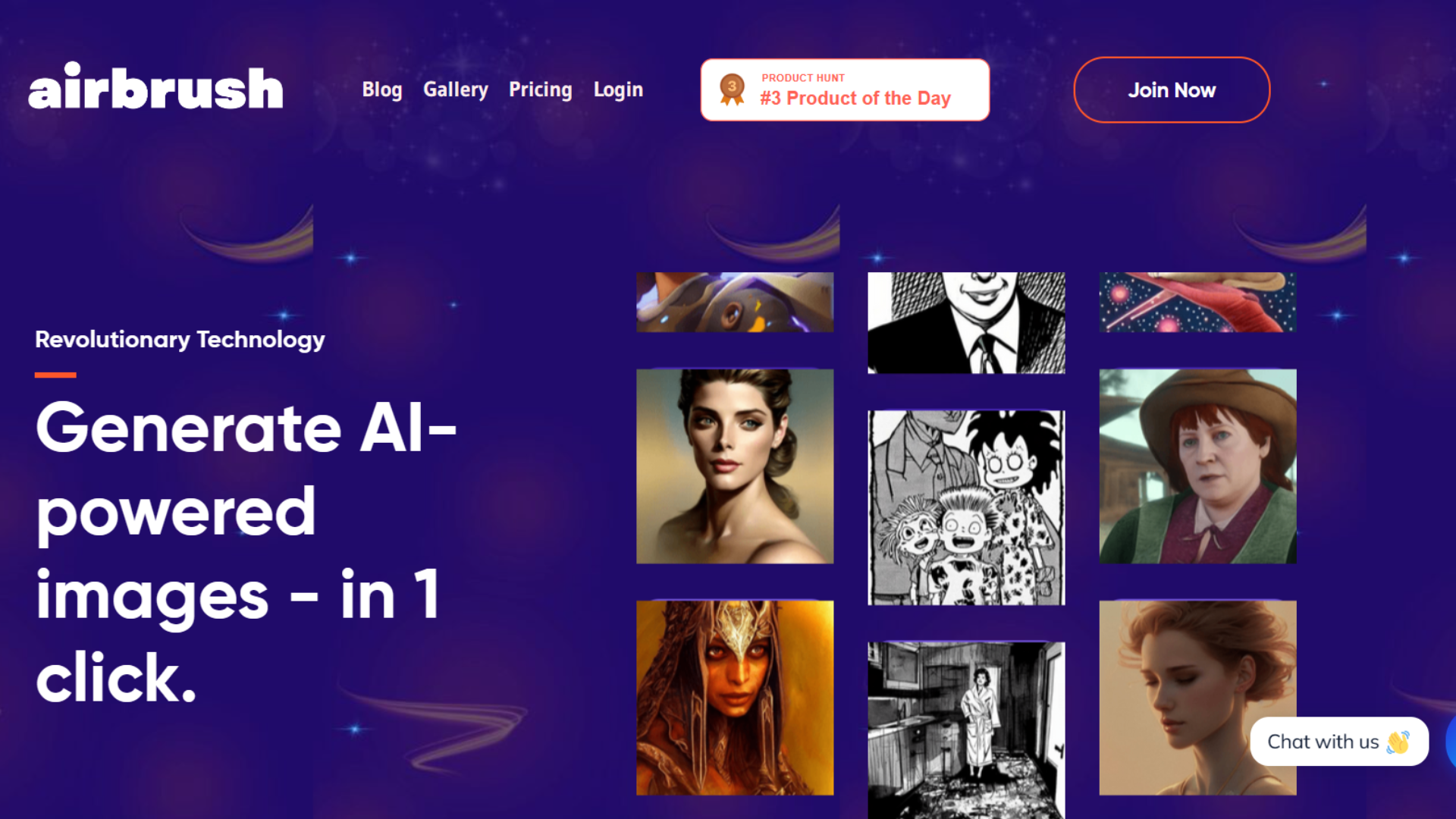 Airbrush is the latest AI image generation innovation, making waves on the market. Available on Appsumo at an unbeatable price, this tool offers you a choice of Stable Diffusion, Dalle, and many other custom models, including Midjourney V4, Anything V3, Redshift Diffusion, and Analog Diffusion. With 500 credits regenerated monthly, you can unleash your creative side and generate your own AI art. Creating an image is easy and affordable with Airbrush. You no longer have to search for the photos of your choice, like in Yay Images!
Airbrush offers you an Images AI generation feature; you need to feed your prompts, that's all! You can create as many images or photos as you want. Airbrush allows you to upscale your images to 4x their size using the image upscale, and you can download your favorite pictures from a gallery of art that's already been created. This tool is perfect for website owners, content creators, enterprises, and advertisers who want unique images at affordable prices. Even more exciting is that inpainting is on the roadmap to be added later. Although still in beta, Airbrush constantly updates its features and adds new capabilities. Airbrush sets itself apart by offering Dalle a low, upfront investment, making it an excellent choice for anyone looking to generate AI art.
So, what are you waiting for? Give it a try to open the world of opportunities!
Thanks for your time!